No, Five Nights at Freddy's Sister Location isn't Cancelled
Scoww Cawthon's website may have "CANCELLED" in big red letters but we all know better.
Scott Cawthon is having a good time rusing the Five Nights at Freddy's fanbase yet again, and some younger fans who aren't on the up and up on older teasers and leaks for previous games may take the joke at face value.
The ruse in question lies in yet another change to the official Scott Cawthon website, which has changed yet again to confuse and entice followers of the Freddy's series. This time around a large image on the site says:
CANCELLED
Due to leaks.
There have been a few leaks, sure. But surely not any that would lead to the demise of what looks like the most promising game in the series.. right?
Right you are! As usual Scott is having some fun. If you copy and paste the image into a semi-competent image editor you can adjust the brightness to see a hidden message among the black background.
[I used open source software Paint.NET to adjust the image below. For future reference (if you want to do this yourself with one click using the program), you can click on Auto-Level in the Adjustments menu of Paint.NET to instantly see what's hidden.]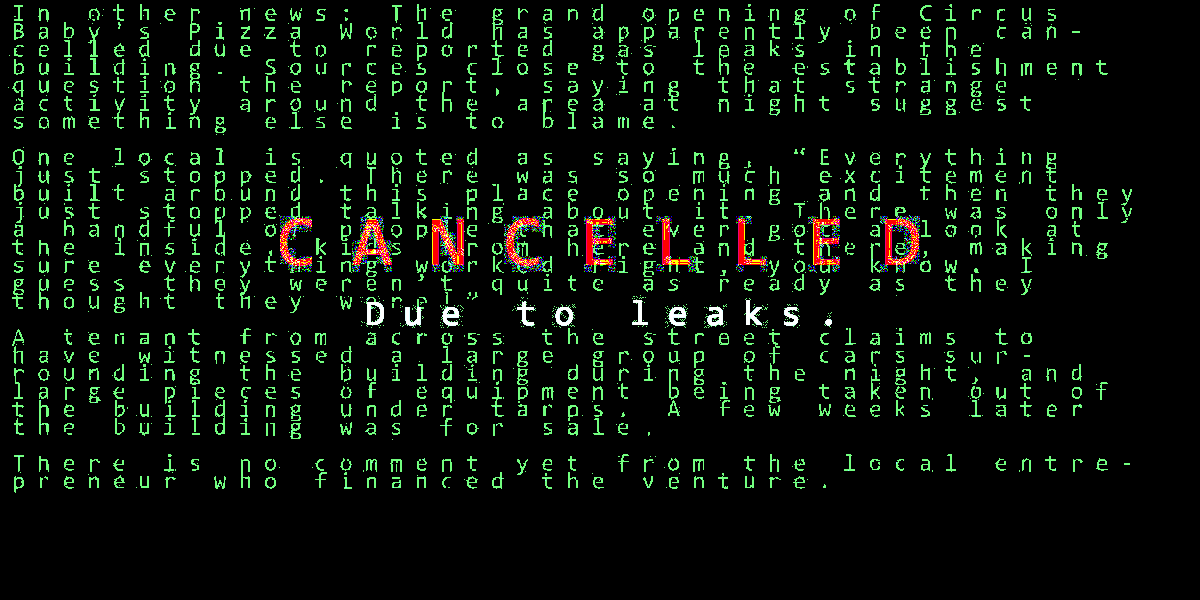 Even when brightened like this it's hard to read, especially behind the big visible words. Here's a transcription of the hidden text:
"In other news: The grand opening of Circus Baby's Pizza World has apparently been cancelled due to reported gas leaks in the building. Sources close to the establishment question the report, saying that the strange activity around the area at night suggest something else is to blame.

One local is quoted as saying, "Everything just stopped. There was so much excitement built around this place opening and then they just stopped talking about it. There was only a handful of people that ever got a look at the inside, kids from here and there, making sure everything worked right, you know. I guess they weren't quite as ready and they thought they were!"

A tenant from across the street claims to have witnessed a large group of cars surrounding the building during the night, and large pieces of equipment being taken out of the building under tarps. A few weeks later the building was for sale.

There is no comment yet from the local entrepreneur who financed the venture."
This may seem like the end of the teaser, but looking at the website's source code, you can check out a meta data tag that reads:
"If anything, it was just too soon for such an ambitious venture. There is still a bright future for Circus Baby, so be watching for her to appear at a neighborhood party near you!"
Once again Scott Cawthon is going out of his way to both panic and excite the fans of his flagship horror series, and he's doing a great job.
The hidden text seems to indicate the restaurant the animatronics featured in the upcoming game were meant to be entertainment for Circus Baby's Pizza World, which will not be opening due to "gas leaks" (which are likely something else entirely).
The hidden meta data text seems to be the words of the entrepreneur rather than the journalist writing about the restaurant's closing, and the hint that Circus Baby could be in your neighborhood is a little unsettling to say the least.
As usual there are a number of ways to interpret this teaser and it's possible it may be a lead to a dead end, as a few Freddy's teasers, hints, and even some lore pieces have been along the way. Nonetheless it's a fun adventure as we edge ever-closer to the October release of Five Nights at Freddy's: Sister Location.
Published Aug. 19th 2016