I Still Hate the Pipe Plant - First Memories of Mario
Who hates the piranha plant?
My first memories as a gamer include Super Mario Bros. My grandparents gave our family our first gaming console, the Nintendo Entertainment Station, when I was about seven or eight years old. I remember my dad handing me the controller on that first board and me starting through it. I made it to the pipes..and did not expect what came next.
Chomping Pipe Plants
I found my first video demise at the hands of a plant. Shocker huh? I went to jump up on the green pipe in the first board and it was a breeze. Second one was good too. What I was not expecting was on that third pipe to find that as I jumped up there, something else was going to be there too until Mario cocked up his toes and dropped out of the screen. At such a young age, I was devastated. How could this plant defeat me! Naturally, I tried again. Second time, that crazy moving plant got me again. With frustration, I took my last life in my hands and proceeded to face my new fear of that plant. Third time is the charm because I was able to beat that plant and sink to the treasures below.
For those unfamiliar with the chomping pipe plants, they are officially called piranha plants. They debuted on the NES platform and can even be found in most recent games on the Wii U. Outside of the pipe plants, they can even be found as breathing fireballs or walking around on their own.
What? No Princess?
Another memory I had is of reaching Bowser's castle at the end of the fourth board. Oh what an accomplishment! To my young mind, this was it. This was the culmination of all my hard work and frustration. I had reached the end of the game! I make my way through Bowser's castle. I was not prepared for the toughness of Bowser so I lost my life the first time I came face to face with the King of the Koopas.
Bring on round two! I am prepared this time! I put my all into the game, biting my tongue with anticipation of defeating the King and saving the princess. I will do it! After what seemed like hours of grueling battle, I find myself successful and Bowser is now defeated! But wait..what is that? That's a toadstool waiting for me..and he has something to say.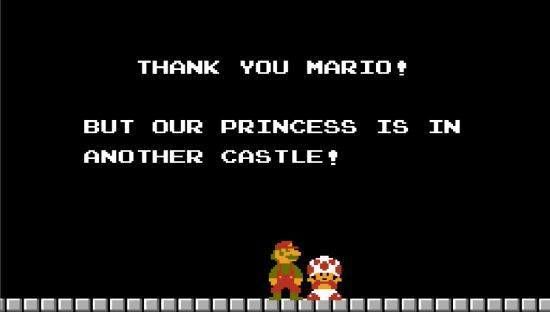 Oh the frustration!
To this day, I have yet to complete the entire game of Super Mario Bros. and I find myself eager to try again, despite the fact that the game is as old as it is. I want to be able to say I beat Super Mario Bros. Is there any game you did not finish and wish to?
Published Aug. 9th 2013