But I NEED One: Gamers Paradise Desk
GIVE ME $500. I NEED IT FOR... SCIENCE.
You know what I love? Kickstarter. It's like a little treasure chest on the internet. Spend a few minutes poking around and something neat will inevitably catch your eye. I like to browse the listings for things like indie games or new tech. Never in my wildest dreams, however, did I expect this.
GAMERS PARADISE
Take a second and imagine what would improve your desktop setup. Maybe some easy-to-access ports? Dedicated audio to switch between headphones and speakers? A smooth, carbon fiber surface that hugs the gentle caresses of your mouse?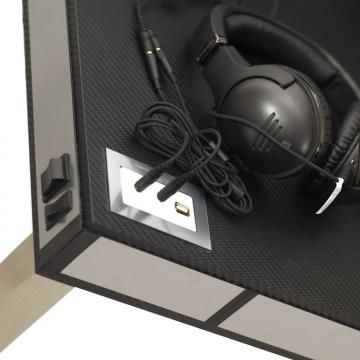 Switches to push! Jacks to fill!
I'm convinced that this beautiful, sleek, creation is every PC gamer's wildest fantasy. It's designed to be an extension of your computer setup, directly interfacing with your PC. It's got enough USB connections to run a small country (it takes seven, apparently), incredibly easy-to-access HDMI and DVI ports, and six power jacks.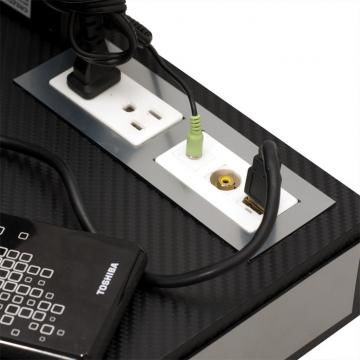 Yes, that is everything you'll ever need right at your fingertips.
I'm exceptionally impressed with the attention the desk has already received. While initially only expected to ship in Canada and the US, updates suggest that there's already a distribution deal in the works out of Poland. Extra great news: If you pledge more than $400, you've got yourself a desk. If the project reaches $150,000 in pledged funds, each desk will include a sturdy plexiglass hook from which to hang your headphones.
Even more great news: the people responsible for the five-foot wide Gamers Paradise Desk are actual electrical engineers, which means your desk probably won't explode at will and consume your setup in a fiery blaze of glory (but it ships with a one-year limited warranty, just in case you're still concerned).
It's got less than three weeks left on Kickstarter, so if this sounds like something that tickles your fancy, you can go here to help fund it.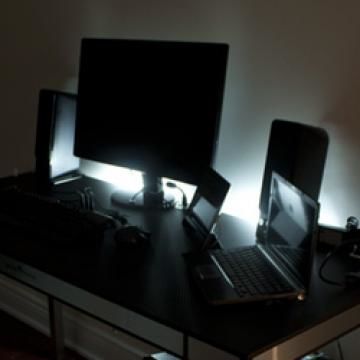 Heck... it even comes with a nightlight. What's not to love?
Published Feb. 7th 2013