Rain World Highlights A Beautiful Dystopia For Platformers
The game is visually stunning, not too easy, but ultimately still good
While most reviews have either counted out the Adult Swim Games Rain World as too hard or shown admiration for the game, the visually stunning aspects more than make up for some difficulty. For those who are not as adept at the game just yet, you'll have to keep the larger picture in mind while playing: progress, survival and life itself. Other indie platformers, such as the recent Hollow Knight, have received better reviews than Rain World but don't capitalize on the visuals nearly as well.
This boils down to a more simplistic reasoning behind certain reviewers who think that ease of game play makes for a better game. We see this line of thinking in games like Super Meat Boy, and there's a difference in the combinations of these components that make Rain World a better game than critics are giving credit for.
The game plays out as you collect food and explore the ecosystem you are in, which act as the rooms. During this time you have to keep a watchful eye on the amount of time you're spending out in the open as hibernation is integral to the survival of your half-slug, half-cat. Rain World does a great job of creating an immersive experience even in a world of wonder and sadness (primarily due to all the rain) but those concepts aren't vastly different from our own anyhow. In each room you encounter a varying amount of enemies but are given little direction as to what the objective is.
While problematic for those who are more use to games that directly tell you the controls and objectives, Rain World just lets the player into the world and sets them free. There's a more important point to this that I feel should be noted: Gaming doesn't have to be about winning. Gaming has primarily focused on achievements, unlocking power-ups and just finishing the game. Luckily more indie games like this one are allowing for the exploration of hard work and works of art by developers like Videocult to be seen.
To truly see how Rain World has gotten some unfair shakes in its reviews, we can look to another indie platformer released this year, Hollow Knight. The game takes on visuals in a different way with a Metroidvania style that is unlike most others and unique by it's own merits. Both games have ways of keeping players from certain areas, (Rain World by karma points and Hollow Knight by item acquisition) but Hollow Knight has overall better reviews and ratings. Most of these ratings cite the style, the art, but like Rain World are hindered by difficulty.
If both games only issue is difficulty, even by a change of settings, perhaps it isn't a bad game merely because you aren't good at it. In fact the game may be a good one regardless of how bad you are. Therefore it can just be enjoyed for the new and different take on a proven platform, and the same goes for Hollow Knight.
The opposite effect of having a platformer be less about visuals or message and more easily playable is available through looking at Super Meat Boy. Reviews for the game are generally high, and the game itself is great without getting into the more meta regions of thought in art. The game is compared on a variety of levels and given high praise for what could easily be a free mobile game. In 2010 IGN's Daemon Hatfield stated:
It's no coincidence that Super Meat Boy shares its initials with Super Mario Bros. This is a pure platformer that boils gameplay down to nothing but running and jumping.
So because a game is more simple and easy to pick up is it really a better game? Compare this question to the IGN review of Rain World and we see that reviewers think the answer is yes. Joe Skrebels stated:
Beautiful environments, incredible animations and enticingly hazy mechanics are fantastic, but the sheer cruelty of how it's pieced out to the player transcends challenge and becomes an unwanted trial.
Super Meat Boy received a 9 out of 10 while Rain World got a 6.3 out of 10 just for a reference between the two. The difference between them, and by extension the ultimate Super Mario Bros., is that Rain World is ironically more about the real world. If we could rate how life is, fairness and beauty as factors of course, it probably wouldn't score very high. Games like Super Meat Boy are about simple objectives for which there's minor punishments but ultimately a reward and can be just as difficult as Rain World. In nature as in our lives, there isn't always a reward or a fair hand for everyone, and that's just the way things are.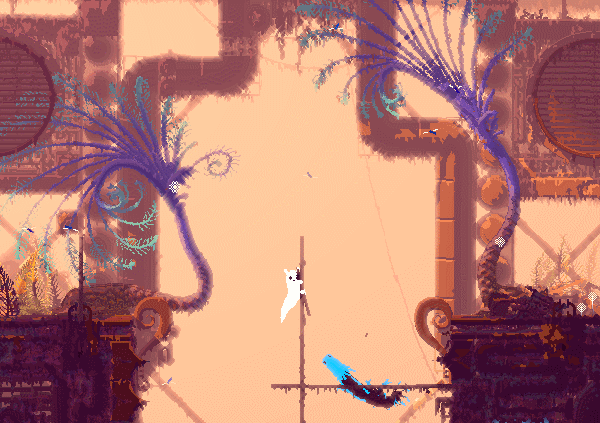 Art can do a beautiful job of illuminating these difficulties and provide an escape from the sad or dreary but the message should be clear. In this game the message is that life is both tough and about discovery. My advice for future reviews of the game, and even future platformers like it, is to remember there's more in it than our ability to win.
Objectives don't make the game, having an overall goal gives purpose to the game, but the simplicity of play doesn't equal an excellent game. After all, wouldn't life be so much easier if we knew the exact command codes for a successful interaction or raise?
One final note on Rain World in these respects is that the devs knew you'd use the environment to aid you, that's by design, even when you didn't understand the larger purpose of the game, it wouldn't always be fair. That's just life.
Published Apr. 4th 2017