Jaden Smith to feature in No Man's Sky
Jaden Smith's motivational Twitter quotes will feature among those from Carl Sagan and more in No Man's Sky.
No Man's Sky was shown off at E3 this year during the Sony conference. When Sean Murray, the founder of Hello Games, was playing it on stage, a quote from Carl Sagan popped up;
"Somewhere, something incredible is waiting to be known."
It's now been revealed that along with quotes from famous scientists and philosophers, you may also see quotes from… Jaden Smith. Yes, the son of Will Smith and Jada Pinkett Smith features in the ambitious, open world game that is No Man's Sky.
This small yet hilarious detail was revealed in a GameSpot interview with Sean Murray.
One of Jaden's iconic quotes, "How Can Mirrors Be Real If Our Eyes Aren't Real" has been confirmed to feature, as well as other quotes from the young actor. Personally, I'm hoping for "That Moment When Peeing Feels So Good You Start Crying." to be included.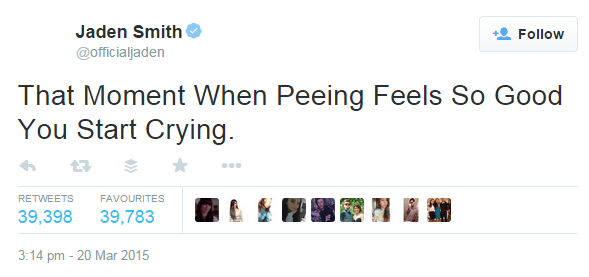 Sean also revealed that they wanted to include the infamous quote from Jaden in their demo on stage, however Sony weren't too keen on the idea. As funny as it would've been, it's understandable why Sony were against it.
Jaden Smith does have some fantastic quotes but which ones would you guys like to see included? You can find his amusing Twitter here: @OfficialJaden.
No Man's Sky doesn't have a confirmed release date yet, however it will eventually be coming to PlayStation 4 and PC.
Published Jun. 18th 2015