Drinkbox Studios' Guacamelee! Nominated for Golden Joystick!
Drinkbox's awesome co-operative brawler Guacamelee! is nominated for a Golden Joystick!
Drinkbox Studios is once again making waves with their epic Guacamelee!
The Canadian studio (who sat down for an interview with us a while back) has been nominated for a Golden Joystick award in the Best Indie Game category for Guacamelee! Other nominees in the category include Hotline Miami, and Mark of the Ninja.
Guacamelee! is a mashup of a ton of genres from platformer to co-op to puzzler, Guacamelee! does it all! Quirky and fun gameplay combined with a unique art style and great writing, it's no wonder it was nominated!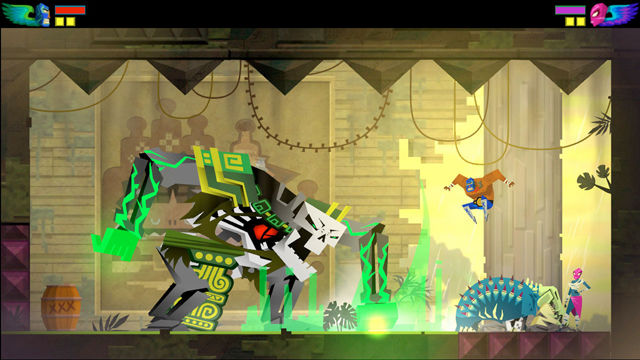 For those of you who don't know, The Golden Joystick Awards have been going on for over three decades they are one of the most notable awards in the business and are voted on by gamers just like you.
If you'd like to vote for Guacamelee! you can do so on their Golden Joystick nominee page! Voting also enters you in a draw to win an iPad Mini so what's stopping you?
Winners will be announced in October!
Published Sep. 12th 2013