$43,000 Raised By EVE Online Players for Victims of Typhoon Haiyan
A week of charity donations has already netted over $43,000 from EVE players and CCP promises to kick it up a notch with a charity event and marathon pledges that run the gamut from wild to wacky.
It may be blue skies, gentle snow, and two successive weeks of console launches here in North America, but if you've taken a peek at the rest of the world recently, the news is not nearly so pleasant.
Typhoon Haiyan (also known as Yolanda) ripped through the Philippines about two and a half weeks ago. In its wake, it left a death toll of over 5,100 - 5,200, with 12,000 people injured, 1,600 people still missing, and 3 million displaced according to various National Disaster Agency reports--making it the deadliest natural disaster in the country's history.
Aid has poured in from all corners of the globe, but more can always be done... and the denizens of New Eden are stepping up to do their part.
PLEX for GOOD
"While the EVE Community may live and breathe carnage in New Eden, it's no secret that when it comes to supporting charity drives with CCP, our players always vastly exceed expectations and band together as an amazing force for good will."
A week ago, CCP relaunched the 'PLEX for GOOD' campaign at the request of the community. The campaign runs from November 20 through to December 7, where for each PLEX donated during this period, CCP hf. will contribute $15 to the Icelandic Red Cross to fund their aid efforts in the Philippines.
What is PLEX?
In the context of EVE Online, PLEX is a Pilot License Extension - an item that adds 30 days of game time to your EVE Online account. It can be purchased with either real money or converted from any game time code, and once redeemed, serves as an in-game item tradeable on the EVE market. Treated as any other in-game item, they can be lost, stolen, or destroyed.
In a week's time, the EVE Online playerbase has already managed to accumulate over $43,000 to help the victims of Typhoon Haiyan, and CCP Bro took to the company's blog to update the community and announce a new 8-hour charity livestream event to keep you company for the last hours of the charity drive.
The livestream will take place from 13:00 UTC to 21:00 UTC on December 7 at http://twitch.tv/ccp. Some of the activities you can expect to take place include:
Playthrough of the Danger game
Small developer roams
Developer DUST 514 matches
A sampling of icelandic cuisine
Developer duels (Following is a picture so you know what to expect)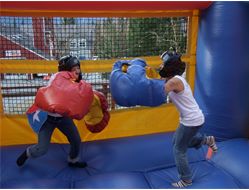 If that isn't enough, it's not a charity marathon if there aren't any pledges - and CCP has some wacky ones up their sleeve:
For every $2,000 CCP Dolan will be shot with 1 paintball
If we reach $50,000

CCP Lebowski will get the Minmatar logo tattooed on his calf
GM Spider will get the Amarr logo tattooed on his body
CCP Dolan will have the number 50 waxed on his chest

If we reach $55,000, CCP Gargant will shave his head
If we reach S60,000, CCP Guard will spar against an Icelandic Tae Kwon Do medalist
If we reach $75,000, GM CiD will get the Wreckage sleeve tattoo from EVE Online tattooed on his arm
If we reach $125,000 CCP Mimic will shave her head
More to be announced when we go live!
CCP is also allowing the community to offer up pledges of their own on the forums to help encourage people to donate during the charity drive. The sky is the limit, and could be anything from doing an event to taking out a very expensive fleet if a certain goal is reached.
How to Donate
If you are interested in making a donation, this is what you have to do:
Contract one or more PLEX to the "CCP PLEX for GOOD" character on a 14 day item exchange contract.
Contracts will be accepted within 24 hours of submission, though usually sooner than that.
Make sure that you contracting your PLEX to the right character named above, and to check that the character is in the C C P Corporation to avoid contracting PLEX to the incorrect character. It goes without saying that anything goes in EVE, and there is always the chance of someone stepping in to take advantage of your goodwill. CCP cannot guarantee the return of PLEX contracted to the wrong character.
Paypal
For those of you who don't currently have an active subscription but still want to be a part of this gesture, CCP is currently looking into the possibilities of providing the option to donate directly to the Icelandic Red Cross through Paypal. Such willing donaters are encouraged to keep an eye out for the donation button during the stream.
Published Nov. 27th 2013