Call Of Duty Ghosts Announces Onslaught DLC
Call of Duty Ghosts will receive first DLC called Onslaught at the end of January.
Infinity Ward, developer of the series Call of Duty, has big news for Call of Duty Ghosts players. The game's first downloadable content (DLC) will release on January 28, 2014. The first DLC for Ghosts is titled Onslaught.
Sound familiar? Get ready for the Onslaught. #CODGhosts DLC Jan. 28 | http://t.co/qv4Zao0tqe

— Infinity Ward (@InfinityWard) January 12, 2014

<script charset="utf-8" type="text/javascript" src="http://platform.twitter.com/widgets.js" /> A GameStop display is the first indication of the release date set by Onslaught. This same display also proclaims that Onslaught will release first on Xbox Live. If Infinity Ward follows through on their promise of Xbox exclusivity for one month as they announced at E3, the content will be available to other outlets around February 28th.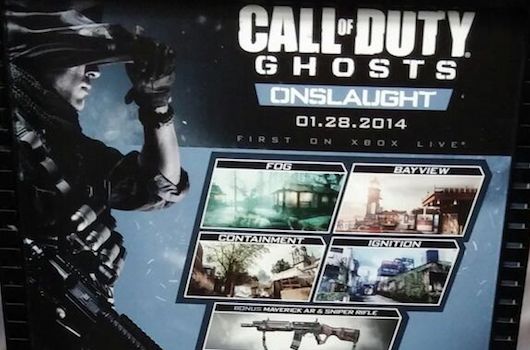 What to expect in Onslaught
The first part of the four-part Extinction campaign is included in the DLC. There are also four maps set to included as shown on the GameStop Display:
Fog
Bayview
Containment
Ignition.
Sniper rifles and the Maverick AR will also be included in Onslaught. Price on the new DLC has not released at this time.
Published Jan. 13th 2014