L.A. Noire Remastered: Truth, Doubt, or Lie
The cult hit from 2011 returns to this generation and still manages to be just as engaging and innovative as it was back then.
When L.A. Noire was first released, it was a breath of fresh air. The open-world genre wasn't as saturated as it is today, so it was still unique to see such a story-heavy open-world game that was less about action and more about dialogue and choices. Despite the studio, Team Bondi, shutting down the year it was released, it seems that Rockstar Games still has some interest in the title and has decided to remaster the six-year-old game. Despite some minor hang ups, L.A. Noire still manages to capture the feeling of the classic 1940s detective films that inspired it.
You are Cole Phelps, a returning WW2 veteran who starts off as a standard cop and quickly moves up the ladder to a detective. There's a lot of corruption and murder happening in LA, and it's up to Cole to put a stop to it. Cole is a good cop; he's always trying to do the best to serve the law, has a strong sense of justice, and works to avoid becoming a crooked cop like some of his fellow LAPD coworkers. However, as the game progresses, Cole slowly learn that not everything is as black and white as he thinks it is.
The writing in L.A. Noire is easily some of the best seen in any video game. Sure, you might see a character archetype or familiar plot line like something from an episode of Law and Order, but it's all told so well that they come off fresh. It's also an incredibly mature game, as it's not afraid to tackle themes of racism, sex, and morality that haven't been touched on in many games. It also does't back away from showing things such as frontal nudity of its dead victims. The game is bolstered by an impeccable cast of actors who can easily hold their own against any Emmy-nominated big-name players. Adding to the performances is the then-new facial-capture technology that was boasted of in numerous interviews and behind-the-scenes clips. It's still as impressive as it was then, even if some games have by this point surpassed it.
The gameplay of L.A. Noire is a mixture of action and mystery solving, with emphasis on the latter. 75% of your time will be spent looking for clues and interrogating witnesses and suspects, while the remaining 25% is spent partaking in gun fights and chases. The game is much more linear than other open-world games. You'll head to a crime scene, look around for any sort of evidence, and talk with primary sources. While the map is large, there's little to do aside from some random events that occur. The structure feels like something from a point-and-click adventure game, but the big thing that separates L.A. Noire from games of those cloth is its dialogue system.
During conversations, you'll have to see if someone is telling the truth or not. It's here where L.A. Noire is at its best. Thanks to the great facial-capture technology, it can be hard to really see if someone is telling the truth or lying. The better you are at judging them, the more likely the case will expand and become clearer. While you're never punished for guessing someone's motives incorrectly, you won't get to experience certain parts of the game. But even so, the game never feels like it's hiding away its tricks, and each case ends with a sense of accomplishment, which helps encourage you to go back and try it again on repeat playthroughs.
Controlling Cole still feels a little sticky, and it would have been nice to play with a control scheme similar to that of GTA 5, but it still gets the job done. And while the gunplay isn't as frequent as in some of Rockstar's other games, it's still entertaining. Gun feedback is great, though you'll only get a standard pistol, and the only way to get new weapons is from off the ground, after you've downed an enemy. That being said, if combat is a bit cumbersome for you, there is an option that allows you to skip these sequences if you die enough times. Driving is also mixed bag. L.A. Noire has a more arcade-like feel than something like GTA 4 or 5, but the turning can feel too sluggish, especially in the high-action chase sequences.
In terms of extras, L.A. Noire comes with the standard content expected from other remasters. You get all the game's DLC, including the various outfits and extra episodes, as well as a visual update. For the PS4 and Xbox One versions, the visuals have seen a substantial update. From improved texture details, new lighting, and support for 4K and HDR, LA Noire's updates are immediately noticeable. Colors have a much more vibrant look to them, and character models and animations have been slightly improved. While it's not the same level of GTA 5's update, it's still a great-looking game.
L.A. Noire is also available on the Nintendo Switch, though it's not as big of an update as compared to Sony's and Microsoft's outings. It's more of a cleaner version of the PS3 and Xbox 360 versions, running at 1080p docked and 720p in portable mode. While L.A. Noire isn't the type of game to play on the go, with its focus more on story, it's still a nice option to play anywhere you go. The touchscreen controls are also a nice inclusion, as you can twist and turn each of the various clues and objects on the touch screen (this can also be done with the PS4 touch pad), and choosing your dialogue options via the touchscreen is also a nice option.
The motion controls ... are there, but you're better off just sticking with a controller. The Joy Cons or Pro Controller aren't quite as responsive as the PS4 or Xbox One controllers, with the ZL and ZR buttons not functioning as well as the triggers found on the the other two, which can make driving more of a pain on the Switch. Finally, there are far more sections in the Switch version that suffer from frame rate drops than in the other versions. They're incredibly noticeable and seem to happen randomly.
That being said, there are still some minor blushes regardless of which version you decide to get. Despite improvements to textures, you'll still get some blurry images when looking at things close up. You'll also notice short draw distances, with the game world constantly loading buildings as you get closer up on them, especially on the Switch version. And there are some anti-aliasing issues throughout.
The audio is especiallty pleasing, with music that constantly evokes feelings of nostalgia if you've listened to the film noir soundtracks of the 40's and 50's. The score, by composers Andrew and Simon Hales, is top-notch and is some of the more underrated music you'll hear in gaming. Along with this is the inclusion of dozens of licensed songs from the era that helps lend some more authenticity to the world. Bottom line, L.A. Noire may be old, but there's been enough TLC put into the remasters of the game to help make it feel more like a living place than it was on last-gen hardware.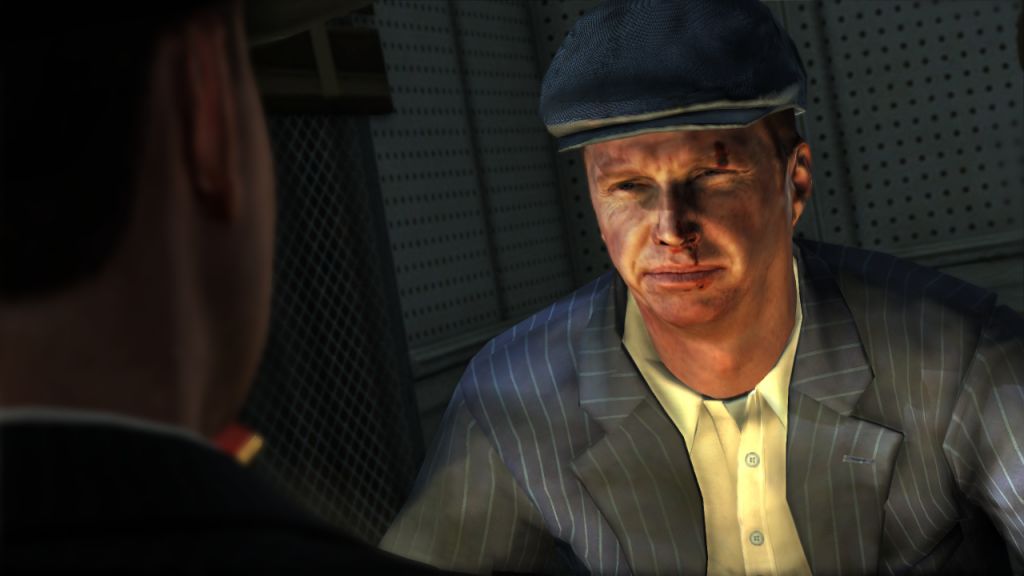 L.A. Noire is still a one-of-a-kind experience that's still worth playing even six years on. While some more additions and changes would have been nice, there's still nothing quite like living out the dream of being a detective in the late 40s. For only $40 on PS4 and Xbox One ($10 extra on Switch), it's a nice deal. Hopefully some day (after Red Dead Redemption 2), we'll get to return to Rockstar's version of 1940's Los Angeles with a sequel for current-gen systems.
Our Rating
The cult hit from 2011 returns to this generation and still manages to be just as engaging and innovative as it was back then.
Reviewed On: Playstation 4
Published Nov. 16th 2017