Amazon Looks to Set Mobile on Fire with New Fire Phone
Amazon looks to change how games handle on mobiles.
It was a big day for Amazon. After years of developing mobile technology, the company has unveiled their newest product, the Fire Phone. From head-tracking to amazing visuals, the newest addition to the Fire line has high possibility to change mobile gaming. This announcement comes only a little over a month since they announced the Fire TV.
Under the Hood
The Fire Phone looked snappy while CEO Jeff Bezos showed off the various aspects of the device. With a 2.2 GHz Snapdragon processor at the helm, the phone has 2 gigs of ram to back it up. This set up allows the device to smoothly transition the effects and features that Amazon has developed.
An Adeno 300 graphics processor gives dynamic color to one of the phone's best features: dynamic perspective.
Dynamic Perspective
We are standing on the edge of a mobile revolution due to dynamic perspective only available on the Fire Phone. With four IR cameras that work in bright sunlight or the darkest night, dynamic perspective takes 3D imagery to a new level. There is no hardware needed as the cameras track head movement to change the viewing angle on the device. While this feature is handy in many ways, it could change how mobile games are developed.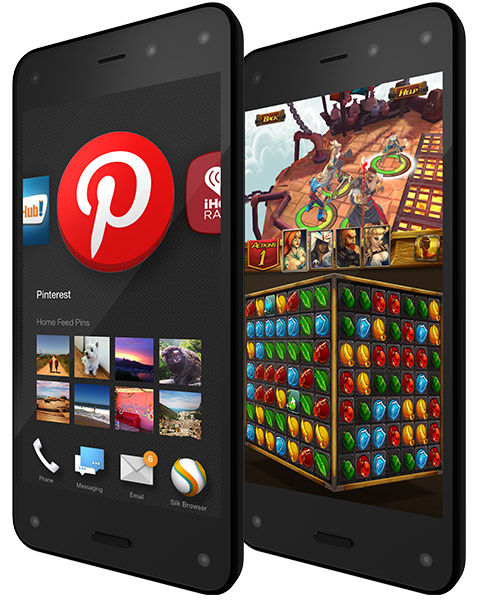 With a simple turn of the device, gaming aspects easily change. Want to peek around a corner of a hallway while playing an RPG? A simple twist of the wrist allows the hallway to shift and giving players a view down the hallway. Players can tilt the device to change target angles in shooter games.
During the conference, Amazon debuted a trailer on dynamic perspective from small developers. They seemed in awe of the new technology, speaking on how easy it was to work with and how creative they could become with their games. It will be amazing to watch as more studios come on board. The SDK is already available allowing developers to get a jump before the device launches on July 23rd, 2014.
Just One Drawback
One aspect of the announcement that is not as enjoyable is the fact that Amazon has chosen an exclusive cellular carrier. The Amazon Fire Phone will only be available on AT&T.
"It looks good — like a 3DS without the headaches." - Kyle Russell, Tech Crunch
For those of us who are not already AT&T subscribers and are happy with our mobile carrier, this results in a bit of frustration. Not only would people have to switch carriers, but also pay new deposits. Other customers in the middle of the contracts could be even more harder to gain as they would have to wait, some even up to 2 years if contracts are new.
Neat Device, Decent Price
Amazon lists the phone as a pre-order at the price of $199 with a service plan. Full price without a service plan is $649. For a limited time, purchasers will get a free year of Amazon Prime. This year will stack with those who are already Prime subscribers.
Published Jun. 19th 2014