Cruise Around New York City in Pop Culture Syle and Enter to Win Cool Prizes Just in Time for Comic Con
Want to drive around New York City in pop culture style? Well Comic Con, ReedPOP, Chevrolet and Uber have your back!
Going to either New York Super Week, New York Comic Con or both? Want to drive around to these events in a Chevrolet custom wrapped in your favorite pop culture theme? Then ReedPOP has you covered with a partnership they have forged with Uber and Chevrolet to offer free rides to either of these two huge events.
As the number one producer of the world's largest pop culture events including New York Comic Con and this year's inaugural New York Super Week; ReedPOP announced this partnership that puts fans in the driver's seat of style and convenience at this year's events. This partnership has Chevrolet custom wrapping nine different car models with some of the most iconic characters from comics, video games and literature.
This special deal will be running from October 3rd through October 7th and will also offer fans a chance to win exclusive access to prizes and collectibles. For instance, for those who ride in the New York Super Week Tahoe you will be eligible to receive New York Comic Con and New York Super Week t-shirts; tickets to the Super Week events and more. You could even have a chance to win the daily grand prize of 3-Day Tickets to New York Comic Con.
Fans will also be able to win a trip to NYCC 2015 with VIP tickets and a Chevy Car Exclusive Prize Pack through a special contest. Starting on October 3rd, fans are encouraged to tweet creative photos of one of the cars by using the hashtag #ChevyNYCC. After Comic Con ends on October 13th, NYCC and Chevy will pick the 10 best photos as the finalists.
How to download:
Open up the Uber app
Enter promo code: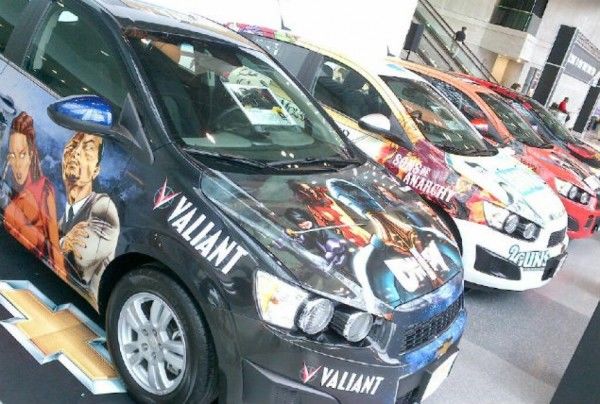 By introducing the inaugural New York Super Week, ReedPOP has taken Comic Con out of the Javits Center and has allowed fans to get where they need to go throughout the city with these custom Chevys.
"These one-of-a-kind Chevy vehicles will provide fans with a unique opportunity to cruise around the city for free in pop culture style," said Chevrolet Marketing Manager Todd Reynolds.
Full lineup of the cars:
BOOM! Studios: Chevrolet Cruze will be wrapped with various characters from BOOM! Studios.
Dark Horse: Chevrolet Volt will be wrapped in characters from the Fire & Stone comic book series featurring Aliens, Predator, Prometheus, and Aliens vs Predator.
Image: Chevrolet Sonic will be wrapped in images from the new series WYTCHES.
Valiant Entertainment: Chevrolet Equinox will be wrapped with artwork from the upcoming series The Valiant.
IDW: Chevrolet Equinox will be wrapped with images of the famed comic character Little Nemo.
New York Super Week: Chevrolet Tahoe will be wrapped in artwork for the New York Super Week event.
Random House: Chevrolet Tahoe will be wrapped with characters and scenes form George R.R. Martin's new book, The World of Ice and Fire: The Untold History of Westeros and the Game of Thrones.
SEGA: Chevrolet Suburban will be wrapped with Sonic the Hedgehog and friends from the upcoming game and animated series Sonic Boom.
TBS: Chevrolet Impala will be wrapped with characters from American Dad by Seth McFarlane.
The New York Super Week will be taking place from October 3th-12th for New York Comic Con. So if you are in the New York City area or are heading down to the city early, take advantage of the free rides and prizes that are now available thanks to ReedPOP, Chevy and Uber.
Also stay tuned to GameSkinny where our very own Venisia Gonzalez and Stephanie Tang will have exclusive write ups and interviews from NYCC!
Published Aug. 25th 2017