Wartune, Reviewed, Sadly
Wartune is as negative an experience as is possible. Any redeeming qualities are far overshadowed by damaging oversexualization, poor design and greedy microtransactions.
I was giving Wartune a fair shake despite the over-sexualized characters, saccharine PvE gameplay and greedy pay-to-win system. The aesthetics actually have a decent appeal, especially to a gamer fond of 16-bit RPGs. The PvP would have been decently engaging if not for the ability to buy your way through it. World bosses are hardly that, as their durability responds to the speed with which it's being killed (which only serves to make players put more time into the repetitive battles). The MMO elements exist, yet somehow deprive the player of that feeling of living in a fantastic world.
There are barely enough elements scraped together from other genres to pull together some poor excuse of a game. It's not really an MMO, or an action RPG, and there's not much strategy to be had. Same goes for any tactical or traditional RPG mechanics. But, hey, it's a free browser game. I didn't think I could complain too much.
I don't even...
Then I saw the advertisements, suggesting that the game has an Adults Only (AO) rating from the ESRB, which it does not. Wartune has not been given any rating, and would still only likely wind up at a T for Teen. The ads would receive a worse rating that the actual content in-game. This was done solely for the purpose of attracting horny teenage boys. What this says is that the game itself is not a sufficient attraction, and must rely almost entirely on sex to sell those microtransactions.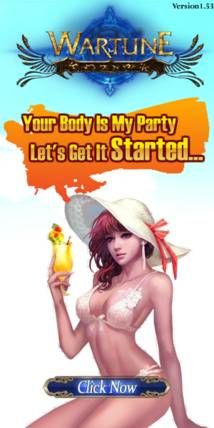 Classy.
A worse crime is the fact that much of the content in Wartune has been directly, unabashedly stolen from other RPGs, including The Last Remnant, Everquest and Ys. Such is the state of copyright in China, where Wartune originates. Here is a tune from the OST for Ys 7, an original and well received JRPG. Here is the same exact song, with no attempt to hide infringement, showcased in Wartune. This serves as a great example of the lower levels game development can sink to.
"It is a shame that Wartune exists."
The most unfortunate element of the game, among many, is the tired sexualization of every character. Not to say that they would be very deep or complex otherwise; what little story exists in the world of Wartune has about as much originality as the soundtrack. The narrative, along with nearly every other element of the game, is barely one-dimensional. The entire aesthetic is simply a ploy to get hits and hopefully microtransactions from the lascivious banner ads. I've seen more subtlety and respect in porn ads. Wartune is bad, and I truly, deeply hope that the developers feel bad. It is a shame that Wartune exists.
It isn't even an issue of subjection of women in games, of respect for the audience, of even simple copyright infringement. These lines are all crossed proudly by Wartune, but what is much worse is the ham-fisted, overbearing approach the entire package takes. They quite literally suggest that you will get laid playing this game.
The interface is a poor as the English.
"You deserve an orgy today," is the sole text on one ad. "Your body is my party, let's get it started," reads another. This is ghastly, and many would argue dangerous for how the target demographic (young boys) views sex and women. It would be funny that even this line was stolen from a song by American pop singer Ciara, if only it wasn't so sad.
I would understand if the game actually featured sex, those games are just fine in their niche. Some are actually decently designed games. But even in that sense, Wartune still doesn't deliver. When you think that no one would be stupid enough to fall for this tripe (I apologize to tripe for the offense), remember what the great George Carlin said about how stupid the average person is.
What combat?
There is no discernible method to each battle, except for the rather maddening randomness. Exactly the wrong aspects of Wartune have been randomized. Randomly selected content needs to apply to environment, gear, experiences, instances, geography, enemies; these things provide great replay value, new experiences and consistently fresh challenges. Not combat. This removes any possibility for strategy, forethought or involvement. You can choose spells to cast; but not where to cast them.
To call Wartune 'Diablo-like' would be a complete misrepresentation. However, the influence of the greater in both GUI and basic movement is clear. In fact, there is so little substance to the gameplay that it barely warrants discussion. What is there? Enter random battle (the encounters are not randomized, though the combat is). Level up. Upgrade your city. Wait (or pay). Bewbs. There. Wartune.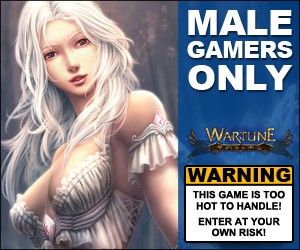 Careful, ladies...
As I mentioned in my review of Game of Thrones: Ascent, another similar yet actually decent F2P social networking browser game, there is a very specific formula being followed here. Or rather, here is a failed attempt to follow guidelines that would otherwise result in an enjoyable if not original social gaming experience. The social gameplay characteristics laid out here (drawn up from Gothenburg University's Staffan Björk's GCO presentation on the subject) shine in many other games in this genre. Wartune simply assimilates these general guidelines into a horrifying hodgepodge, along with elements from many better games, and brands it with terribly offensive advertising.
No. Just… no.
Our Rating
Wartune is as negative an experience as is possible. Any redeeming qualities are far overshadowed by damaging oversexualization, poor design and greedy microtransactions.
Published Sep. 16th 2013