Guildwars 2: gameplay and review
Guidwars 2 is an 8 out of 10 for casual gaming.
First of all, I'd like to apologize for the bad audio on the video.
In Guildwars 2 I have one of each class type released. The first four I'm pretty well aquainted with, the other four not so much.
Guardian- a tank like class that can also deal heavy damage. I use a hammer as my main weapon on this character.
Ranger- a long distance fighter with pets. To obtain pets you must find Juvenile versions of them in the world to tame.
Warrior-a heavy damage class, may have tank capabilities, not sure. I favor greatsword on Warrior.
Elementalist-standard mage. To get the full range of capability you can alternate through elements. Fire is heavy straight damage. Water is support and healing. Thunder is more damage based spells. Earth is damage over time, for drawn out fights.
Engineer-a ranged damage class, specializing in guns.
Necromancer-a mage class using minions, and dark magic to damage enemies and heal.
Mesmer-a mage class specializing in illusions. Can equip some melee weapons and fight on the front lines.
Thief-melee damage class specializing in - I'm not really sure...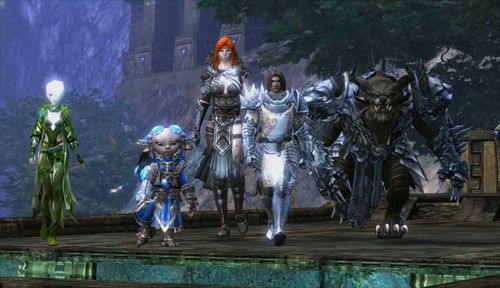 I was really into the game when it first came out, I had a couple of friends that played with me which made it fun. I played for a good two months straight without playing any other games. I hopped around a bit to try out the different classes, and I even made sure to have 1 of each race. The majority of my characters however are Norn and Human females.
My main characters and their crafting
My highest character is a level 55 Guardian, followed by a level 32 Ranger. My Guardian has capped jewel crafting, which is actually useless as it makes you no money in the game. It maybe cost me around 200-300 gold to cap, but I can't even make back the money. The items just are not in demand. Cooking is another useless craft, and my Guardian's secondary, unless you constantly remember to use food. You cannot salvage food, I don't even think it can be NPC'd, so don't get to wrapped up in it.
My Ranger took up huntsman and weapon smithing. These are pretty good crafts to have, though leveling them at the same time is a pain. The craft system is set so that you craft components then use those components to "discover" recipes for actual armor and gear. Crafting the components grants you some experience as long as it's still within a certain range from your level. Discovering recipes not only adds them to your list of recipes for future use, but also grants bonus experience for discovering the recipe. Discovering recipes is the fastest way to level crafting.
Combat
Combat varies a bit for each class depending on the weapon. Each weapon has an associated skill set that is different depending on your class. While a Warrior and a Guardian may both be able to equip a greatsword the skills it gives each class are different. For group play to maximize effectiveness of the team you would want to carry a variety of weapons so that you can swap your skills if needed.
Leveling
There are several ways to get experience within the game. You need to really do all the different available options to maximize your leveling if you're on your first character. However if you have a capped character and have been saving up the materials you can power level your other character's physical level through crafting. I think my Guardian went from 20 to 55 on crafting alone. Map completion gets you some decent experience as well, each item on the map nets in some experience while the Heart Quests net in a good little bit. The Heart Quests are quests you have to complete within a certain location, there are usually multiple ways to fill up the meter for the Heart Quests.
The last decent option for leveling is Dynamic Events. These events are marked on the map with orange circles. participating in the events will get you rewards based on your level of participation. If you put in a lot towards the completion of the event you'll get gold and the highest reward amounts for experience, Karma, and coins. While story quests do give a good chunk of experience upon completing the quest, the quests themselves skip a few levels so it's not a feasible way to level.
PvP
The last thing, which the video didn't show is PvP. I'm only familiar with the WvW aspect of the PvP. I'm currently stuck on the European servers because a friend of mine talked me into going to those servers instead of the NA ones. So the World vs World was dead whenever I tried to get on and do it. There was one time however that there were a couple people on each side just wandering around doing stuff and battling. The PvP is pretty fun when you can find people to fight against but yeah when there is no one around it's boring.
My opinion of the game overall
It's a unique system. No standardized quest system in the game, meaning you don't have to run around and talk to 50 NPCs to complete a quest. The discovery system for crafting is pretty cool, even though it's a bit frustrating to be unable to figure out what you're missing for a recipe. The repetitiveness of the game is kind of dry though so I cannot play it for long periods of time anymore. If I could get into the NA servers with my current characters I'd be more inclined to play the game. At the moment it does not have a whole lot of draw for me when competing against games like Ragnarok Online 2 and Final Fantasy XIV A Realm Reborn. I'd say GuildWars 2 is an 8/10 for casual gaming. I hope my review was helpful, if you enjoy the game let me know in the comments below.
Our Rating
Guidwars 2 is an 8 out of 10 for casual gaming.
Published Jul. 10th 2013