Next Chapter in the Dragon Age
Dragon Age: Inquisition is almost here. 
 
I should probably book a month off from work....
I've been watching the various DA Inquisition updates with mounting anticipation for some time now. With pre-order options now upon us, my excitement is palpable.
The Dragon Age site is brimming with content, I was particularly dazzled by the trailers, depicting spectacular magical attacks, gargantuan beasts and the return of Morrigan, looking very Carrie Anne Moss. As much as I loved Morrigan in Origins, it's characters Cole and Dorian that seem to have caught my attention this time round.

So due to my inherent inability to keep my gaming related thoughts contained within my head, here they are.
The Ghostly Rogue and the Tevinter Mage
Cole
Look into my eyes....
Cole is not a wholly new character to the Dragon Age-verse, he originally appeared in Dragon Age: Asunder, David Gaider's DA novel. During the course of Asunder's storyline, Cole discovers an extremely pivotal piece of information regarding the mages. In retrospect, this piece of information might have made an interesting addition to Dragon Age: Origins. Dragon Age 2 definitely would have had several more compelling story options with this in mind. I can only hope the reason Cole has made an appearance in Inquisition, is to finally make it known.
I'll admit that I was slightly confused when I learned one of the Inquisition members was a ghost. How would such a character be harmed? I thought. Surely you can't kill what is already dead? But I quickly realised that this is Dragon Age, spiritual entities get their ass kicked all the time.
Being a character adhering to different metaphysical laws, you can bet Cole's going to have abilities that give him a huge edge in battle. However, an intelligent use of disadvantages will need to be employed to maintain balance. Being the fanboy I am, I have faith this will be done with expertise.
Dorian Pavus
I'm here to set things right. Also? To look dashing? That part's less difficult.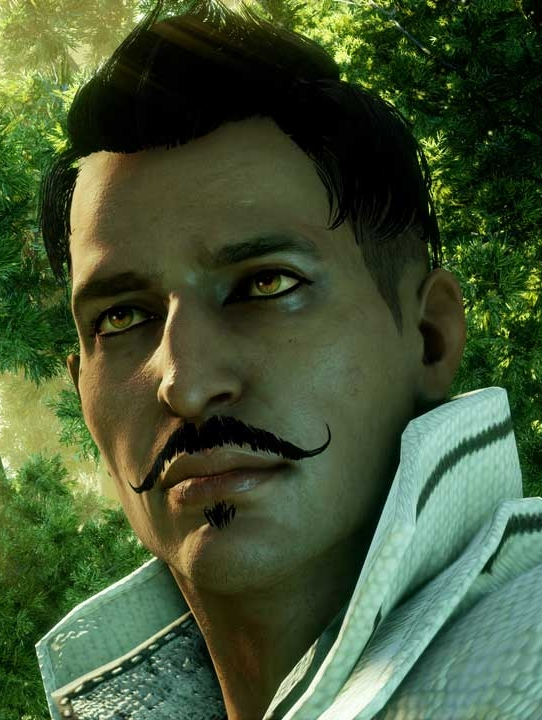 It was during my time hacking and slashing through Dragon Age 2, when I developed my fascination with the Tevinter Imperium. After having witnessed the mage aspect of society being suppressed so harshly by the Templar presence, a community where mages are the ruling class added a satisfying sense of polarity to the game world.
So far, it has been the mages who have displayed the more impressive examples of offensive technique in Inquisition, making the character Dorian an exciting prospect to play. Hopefully, upon acquiring the male as a companion, we can finally witness first hand the supernatural force that has made the Tevinter Imperium such an important addition to the Dragon Age series.
Like many others, I have awaited this game with bated breath. Dragon Age 2 seemed to have missed the mark with a lot of fans, but everything about Inquisition seems to be golden. I, for one, will be counting down the days to October 10th hoping Bioware can live up to hype.
I'll see you guys in Thedas.
Published Jul. 2nd 2014