Anime Los Angeles 2013: Errybody in the Con Getting Tipsy
Dressing up as Japanese cartoon characters and drinking is what goes on at this convention.
Do you like anime conventions?
Do you like the small con feel with the large con body county?
Do you like to party?
If you answered yes to any of these questions, then ALA is the con for you.
The ALA basics
Anime Los Angeles started off as a small con, but has been getting more and more popular over the last few years. Unlike another Los Angeles anime convention, Anime Expo, ALA has a much more laidback vibe to it. There's panels, a dealer's hall, an artist alley, and various entertainment rooms, but unlike AX, where you're constantly rushing and pushing against huge crowds, these crowds are a bit more thinned out and you're never really in a rush.
It's all about the after par-tay
I've been going to cons for the last 7 years. When I was sixteen and I went to my first Anime Expo, we only stayed for a few hours and mostly walked around the exhibition hall. Now that I'm 22, it's about partying as hard as you can in a three day period, with no West coast anime con being as party-centric as ALA.
As previously stated, this is a great con if you like to party. My group skipped day 0 and decided to come the first official day, so, when we arrived, you could already see tons of hungover looking cosplayers, slowly making their way from room to room, trying to find more alcohol to fill their systems with.
To just accent the party spirit of ALA a little bit more, one of the biggest events of the convention was the Taco Party. There were tons of people, most of them hammered, lined up to get some grub. Tacos are dang delicious on their own, but when you've had a bit of drink in your system, it makes them all the more delectable.
The dealer's room action
The dealer's hall was about the same size as AM2, another southern California anime convention. It wasn't very big compared to famous cons like Anime Expo or Comic Con, but ALA still managed to have a variety of booths with awesome selections. I picked up some figures, a Great Ball replica with a Chimchar from Pokemon Diamond/Pearl, was given a small Mjolnir from a friend, and made the best purchase ever at a booth run by a company called the Hornsmyth. I picked up an ushanka and a drinking horn, which I later filled with vodka.
Artist Alley: Quality, not quantity
ALA's Artist Alley was also a bit small, but there was a lot of quality work available for purchase. One of the artists from Skull Girls, Alex Ahad, was there, taking commissions and speaking with fans. A friend of mine who cosplayed as Filia from the series had the chance to talk to him for a while and commented on how cool he was to everyone who stopped by the booth.
Cosplay Ahoy!
On the subject of cosplay, there were a ton of awesome cosplayers all over the con, although most congregated over to the pool deck for photoshoots. This year, the most popular series was, hands down, Homestuck. Although it's a web comic and not an anime, it's been extremely popular at most conventions for the last year or two. A few years ago, Axis Powers Hetalia was the big one and before that, Kingdom Hearts was the most cosplayed.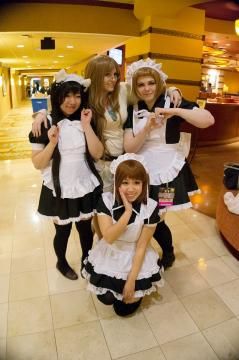 Too moe to live, too kawaii to die.
Of course, mainstream series like Naruto, Bleach, and One Piece all had a ton of cosplay representation as well. Sword Art Online, Adventure Time (an American cartoon), and Madoka were all popular, as well.There were representatives at ALA for some less popular series and games, like Parappa the Rapper, Killzone, Binbougami Ga!, and Chuunibyou Demo Koi Ga Shitai.
That's a wrap
BESbswyBESbswyBESbswyBESbswyBESbswyBESbswyBESbswyBESbswyBESbswyBESbswyBESbswyBESbswyBESbswyBESbswyBESbswyBESbswy
All in all, ALA 2013 seemed like a success, both for the people throwing the con and the people attending. Although I'd like to take this moment to express my sympathies for the cleaning staff at the LAX Marriott. They will probably deal with large amounts of food and drink garbage, puke, and possibly some discarded manga of an adult nature.
Published Jan. 7th 2013