GTAOnline Will Have Microtransactions
Will Rockstar integrate micro-transactions to the online component of its hugely popular game?
Rockstars' upcoming Grand Theft Auto Online, the anticipated online component to the incredibly popular Grand Theft Auto 5, will have a micro-transaction system when it is released on October 1st.
Micro-transactions are one of the "dirty words" of gaming, and Rockstar is not immune to this response. There hasn't been an official announcement from Rockstar as of yet in regards to the micro-transaction system -- it was discovered by a Reddit user in a plain, publicly viewable XML file on the game's online store. The find also featured four images of in-game cash cards in a variety of denominations.
As Eurogamer reported:
The Red Shark Cash Card will give $100,000 of in-game money, while the Tiger Shark Card nets $200,000. The Bull Shark Cash Card equates to $5000,000, and finally the Great White Shark Cash Card will grand $1,250,000.
Fans, and original Reddit poster 1880 have speculated that this micro-transaction system explains why it is so difficult to make money in game in GTAV. Stocks and properties, two of the primary systems, are functional but not big money makers. Heists are pretty much the only way to generate currency, and they're relatively spaced out.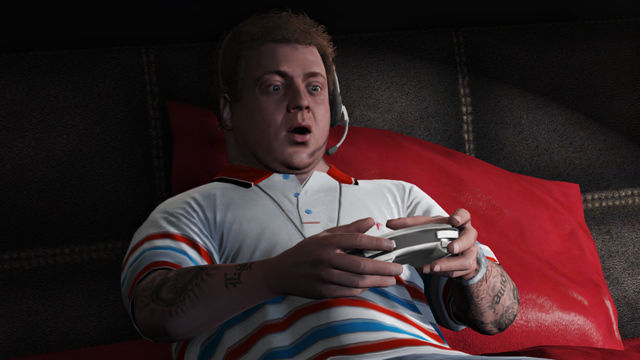 Current speculation is that the cash will be for cosmetic changes primarily -- like buying and customizing new cars. Fans are still pretty upset. As one Reddit user, ARCHIE22196 put it,
"This would be so awful seriously, I spent $120 on this game, don't make me spend any more money to enjoy online."
The text description states that;
Cash is king in this town. Solve your money problems and help get what you want across Los Santos and Blaine County with the purchase of cash packs for Grand Theft Auto Online. All purchased cash is automatically deposited into your character's bank account. Spend wisely, cash therapy is fleeting.
Fans point to a growing industry trend with games featuring micro-transaction systems. However, at its lowest, GTAV costs $60. An additional micro-transaction system, even if it's just for online play and even if it is just for cosmetic changes, seems to some fans like highway robbery.
What do you think? Should GTA V incorporate micro-transactions?
Published Sep. 24th 2013