Grand Theft Auto Online Issues Being Addressed By Rockstar
Grand Theft Auto Online launched on Playstation 3 and Xbox 360 yesterday, October 1, and gamers have experienced a number of problems with the game
Grand Theft Auto Online officially released yesterday, October 1, but not without its fair share of issues and glitches that many players experienced. Rockstar warned before the launch that Grand Theft Auto Online would have problems during the first few weeks because of the game's size, and asked players to be patient as they work to improve Grand Theft Auto Online.
"We are continuing to look into these issues and are working around the clock on resolving them as quickly as possible," said the studio via the company's news wire.
"These include close monitoring of our support systems, forums, social media, and in-game data to measure traffic along with community sentiment to ensure ongoing improvements to stability," the studio said.
Rockstar has marked nine of the most prolific issues that players have had with Grand Theft Auto Online. There are unconfirmed claims that players have had their single-player files erased after going online, and this issue has not yet been addressed by Rockstar.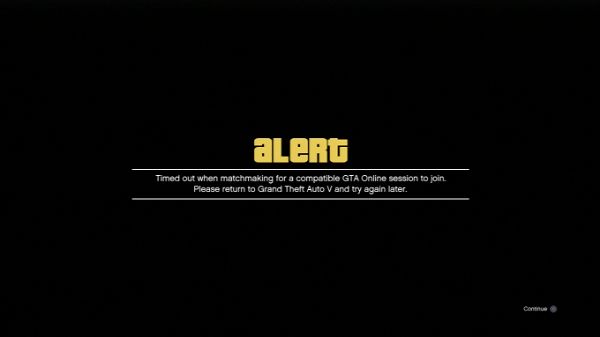 Quite a few people ran into this error since the game launched yesterday...
The list below includes the nine issues that Rockstar has acknowledged so far:
Occasional "Rockstar Cloud Servers Unavailable" error message
Freezing during the loading screen of the first race with "waiting for other players" on the screen (I experienced this issue about seven times before I managed to play Online for a few minutes.)
Intermittent "Failed to Host a GTA Online Session" error messages
Race Corona (start area, marker) occasionally not appearing for first race
Errors stating "Timed out when matchmaking for a compatible GTA Online Session to Join"
Occasional errors about jobs failing to start or load correctly
General issues with Social Club site and features
Misc. network and server-related error messages, disconnection or cloud server errors
Errors stating "Mission Failed" after beginning a mission at the beginning of an Online Session.
No timetable has been given for when these issues are going to be resolved but hopefully Rockstar will have the major issues fixed soon.
For those that have tried playing Grand Theft Auto Online, have you experienced any of the problems listed above while playing? Have you had a chance to actually play online since the game launched yesterday? Let me know about your experience with Grand Theft Auto Online in the Comments below.
Published Oct. 2nd 2013