Atlus Streams Etrian Mystery Dungeon's Full Trailer
Atlus USA releases the full length trailer of the new Etrian Odyssey-Mystery Dungeon crossover game.
With Etrian Mystery Dungeon's American release in a few days, it seems like a good time to reveal the game's full length trailer.
Atlus' new effort of expanding and experimenting with Etrian Odyssey, the dungeon-crawling JRPG series, Etrian Mystery Dungeon is due for its North American release. A collaboration with Spike Chunsoft, Etrian Mystery Dungeon combines the classes and battling of Atlus' series and the randomized dungeons of Spike Chunsoft's Mystery Dungeon series.
Shigeo Komori and Yukari Yokoro from Atlus serve as the producer and director of the game, with Seiichiro Nagahata and Kaoru Hasegawa from Spike Chunsoft serve as the project director and character designer. People who worked on previous Etrian Odyssey titles also return to the work on the new game, including composer Yuzo Koshiro, class designer Yuji Himukai, monster designer Shin Nagasawa, and art supervisor Nizo Yamamoto.
There are a number of changes to the series in this collaborative spin-off. Unlike in the original Etrian Odyssey series, players can only choose a maximum of 4 out of the 10 classes for their exploring party, explore the dungeons in a third-person perspective, not first-person, and can't map the floors because of the obvious randomization.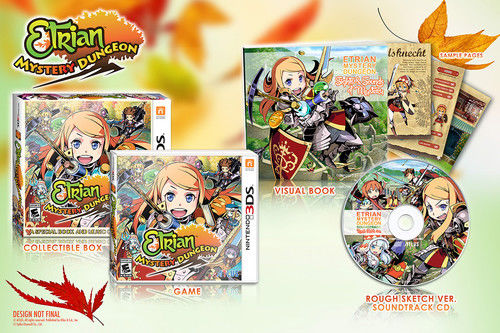 The game will be released with bonuses for players who decided to preorder it. In addition the game, players will get a 28-page book of art and notes from the game and a CD with rough recordings of the soundtrack. Already released in Japan in March, the game became the number two seller for the month, selling 91% of its stock within the first week of its release. Hopefully the game will preform the same in America as it did in Japan. The game will be released on April 7th for North America with its price set at $39.99.
Published Apr. 2nd 2015