Surgeon Simulator Now Operating on PS4
Hack and slash with new features on Surgeon Simulator Anniversary Edition, now available on the PlayStation 4.
Gamers who were performing surgeries on Surgeon Simulator 2013 with the PC or iPad will have a new tool to examine Bob the patient with, as Bossa Studios' simulation title has been released on Wednesday for the Sony Playstation 4 as an anniversary edition.

"Surgeon has had a very unique development cycle, and bringing the methodology to the PlayStation 4 (with all the new toys it provides) has been great," Surgeon Simulator Anniversary Edition developer Poppy Byron wrote on PlayStation's blog. "We see a feature opportunity, and we try it out."

The game, which rose to popularity via Let's Play videos filmed by YouTube personalities such as Toby Games and Uberhaxornova, still features it's difficult controls and classic operations but adds new features that change the way players handle surgeon Nigel Burke.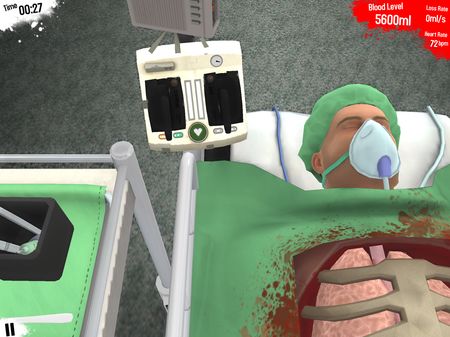 Players can now perform the recently added levels such as the alien and corridor surgeries, as well as the eye transplant, by utilizing the PlayStation 4 controller's touch pad and move sensor as commands for Burke's arm movement and grip. For those who prefer traditional controls, the analog stick and buttons are also available to use.

Burke can also receive help from his right hand in a new local co-op mode. The live drop-in/drop-out feature is exclusive for the PlayStation 4 version of the game, and makes for a brain-splitting experience seeing two hands be uncoordinated and uncooperative with each other.

"What you do (in local co-op mode) is up to you. Help or hinder, it's entirely your choice," Byron said. "But remember – if your friend is being particularly useless or annoying, they're only a couple of feet away from you."

Surgeon Simulator Anniversary Edition can be purchased at the PlayStation Store.
Published Aug. 14th 2014