SteelSeries Sensei Wireless Review
The SteelSeries Sensei Wireless has changed my view of wireless mice.
Let me preface this by saying I am not a huge fan of wireless mice, especially when it comes to gaming. More often than not, I run into issues with connection, battery, output, etc. A wired mouse is my preference simply because they have a hard connection and don't require a battery--not a whole heck of a lot can go wrong.
However, the SteelSeries Sensei Wireless is starting to change my mind.
The packaging was clean, simple, but heavy enough that I felt like everything I received was in one piece (I've received completely destroyed equipment from UPS before due to negligent handling). Everything was in a nice, snug place, and I was very impressed with the presentation.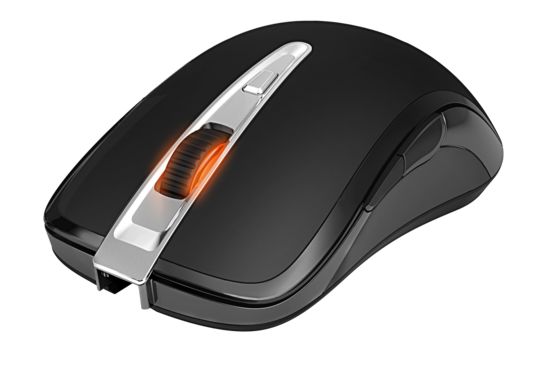 Setup and customization
Upon unpacking the mouse, I was presented with the actual device, and the base that charges it. The weight of both the mouse and base is decent, though the mouse is a little heavier than I expected, especially on the SteelSeries Qck pad.
I appreciate a heavier base, however, because it doesn't feel like a cheap plastic thing that's going to break within a few weeks or wear out. The charging indicator (the green outline that shows you the charge in the mouse battery) is also hugely helpful--there is very little chance of me running out of battery in the middle of something important, and it's easy enough to charge the mouse overnight. There are also settings in the engine that allow you to switch from different power using modes--Performance, Balance, etc.
After I set the sensitivity, I was very impressed. The mouse absolutely glides.
I will say that I ran into an issue trying to update the firmware--right at around 41%, I received an error (multiple times) saying that the bootloader device could not load. I googled the error and found no answers, and not a lot of help from the SteelSeries FAQ, either. A little frustrating, but after downloading the driver for Engine 3, I was able to connect the mouse to the SteelSeries engine. Not all SteelSeries products are compatible with the Engine 3, so I'll have to wait to connect my Apex keyboard to it and keep the original Engine installed.
Here, I'm able to customize things like CPI (sensitivity), colors, button actions, macros, a sleep timer, etc. I enjoy using this engine and find that most of the features are pretty straightforward and easy to find. I currently have the mouse set to display the charge status as the SteelSeries logo color, that way I am constantly aware of the status of the battery.
Note: This mouse goes up to 16400 DCPI. I'm using it right now and it's pretty insane.
Usage
Like I said above, the weight of the mouse was surprising at first, and it caused a dragging feeling as I moved it about on the mousepad. With a hard pad this might be an entirely different feeling, but using a cloth surface makes the mouse itself feel heavy. That being said, you can solve this issue by upping the sensitivity of the mouse through the Engine in CPI1. I did so and it feels remarkably better.
After I set the sensitivity, I was very impressed. The mouse absolutely glides. It's ridiculously responsive and smooth, and there's no lag or feeling of a wireless connection that can come with lower-end products.
As for size, I do have smaller hands; I was using the Razer Orochi (Razer's laptop mouse) before receiving this unit, and it fit pretty well in my palm--though anyone who owns this mouse knows it's tiny. The Sensei is much larger, but has a more solid fit and feels more comfortable with its smoother, sleeker shape. The wheel is probably my favorite part, though. The mouse wheel is a gripped rubber that feels natural with the rest of the design. All in all, a very modern look.
It can also be plugged directly into your PC through the USB cable, converting it to wired in one easy step.
Overall
I've tried this mouse out in a few different games now (like Banished, World of Warcraft, League of Legends), and haven't had any issues. It's responsive and smooth, and feels just like a wired mouse in terms of speed and connection.
In fact, the Sensei is doing a fantastic job of changing my mind about wireless mice. Aside from the heavier feel and the frustrations with getting the mouse and my APEX to show up on the Engine (hence the docked star), this a solid device that is more than worth its price of $159.99. I would highly recommend it to anyone wanting to avoid a wire.
Side Notes
This mouse is ambidextrous, but I am right-handed.
Sensitivity for SteelSeries is measured in counts-per-inch (CPI).
This mouse can go from wireless to wired with the USB cord. Disconnect the mouse from the base with the connect switch before connecting it to your PC.
This unit was provided by SteelSeries for the purpose of this review.
Our Rating
The SteelSeries Sensei Wireless has changed my view of wireless mice.
Published Dec. 12th 2014