Gaokao Love 100 Days, Cram as many as you can in the image above
How well can you juggle grades, social life and health, as least in this game?
It is always hard to maintain all good grades, a social life and a healthy body during high school and college. Procrastination, preparation for college and exam are essential in US high schools. But when compared to Chinese students, US students generally have  an easier time.
There is a game which can simulate the craziness that Chinese students need to face. It's called the Gaokao Love 100 Days, and it's a visual novel romance/adventure simulator developed by Gaokao Lianai Weiyuanhui (literally translated as Romance of Gaokao Association). The game is a slice-of-life sim with multiple storylines, most of which are furthered through conversations. 
Imagine this for a moment:
You are only 100 days awway from the college entrance exam, which only can be taken once a year. If you want to have a second chance at passing, you have to become a "super-senior."

The exam contains subjects like language arts, mathematics, foreign languages, and comprehensive (natural) science.

The exam lasts for two days.

Police officers walk around to catch cheaters.
This is the nature of the stressful Chinese National College Entrance Exam. This exam is much stricter, harder, and longer than the SAT in the US. It also plays a major role for many Chinese students after high school.
This is what Gaokao Love 100 Days is simulating. You must prepare for your exam and succeed. But you must also pay attention to your social life. In the realm of romance, you have a date, and there's competition with another male student. Nevertheless, as an Asian student, your parents will push their high expectation on you to excel the exam and be successful. As you are trying to balance both exam prep and romance, you'll have to watch your mental health and try not to be sleep deprived or even become insane.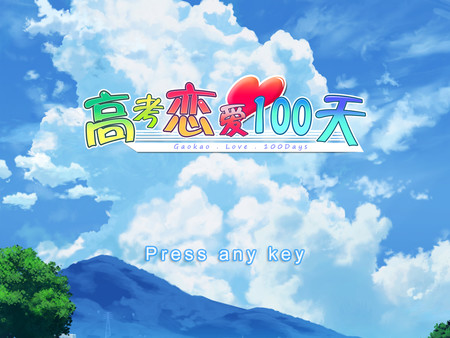 Starting Menu
Grades
Like most students, if the player has not studied a subject for a while, their knowledge on that subject will drop.  Thus their performance during exam time will go down. The character needs to know all their subjects well to get into a prestigious university. Hint: studying with smart classmates and consulting teachers can be helpful in this situation.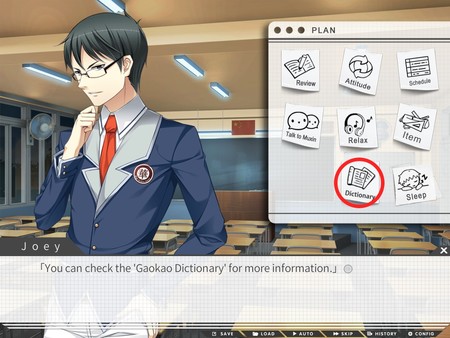 Character's smart friend is giving him studying advice .
Health
The player will need to watch their mental health and prevent sleep deprivation and high stress. When the character is under high stress, studying would be less efficient. And other tasks become more difficult as well.
[Spoiler Alert]: the chance of getting into traffic accident is higher when character is tired, just like in reality.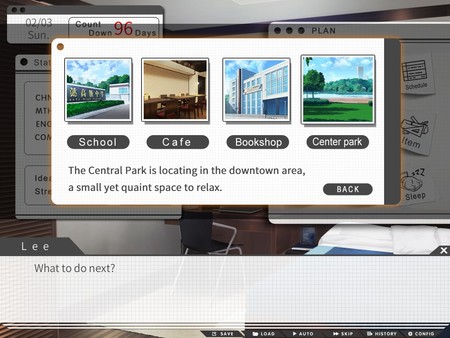 Walking in a park may reduce stress and more prepared for studying
Romance
The main character has romantic storyline with his girlfriend, Muxian and a female classmate called Xiaohan. However, if the main character does not interact with Muxian often enough, she will leave. In this case, the player only can choose one of them, or none.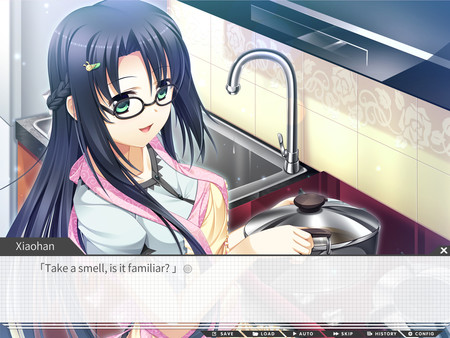 Xiaohan, the classmate which the main character has romance storyline with.
Reflective of real life
In my opinion, there are many scenes in the game that reflect common traits of adolescence, such as browsing internet aimlessly while studying, believing and even trusting non-scientific "life hacks". However, the player should beware of these random events, as they may impact the character's mental health and performance.
To some degree, the game reflects my own high school days -- and my "SAT Love 100 Days" did not end too well. I believe I could have done better a few years ago. Although I am moving forward and focusing in the future, the past is the only source of life lessons. Until time machines are invented, playing this visual novel is one of the way that I can relive this experience.
In the end, the outcome is dependent on the player's decisions. There are more than 50 different endings. The player may end up in a top tier college with no girlfriend, a community college in his city but living happily with his girlfriend, or become a "forever alone super-senior ". Lastly, the winning or losing standards are set up by the player. The game only tells you how you ended up -- but whether that ending is good or bad is determined by whether the player is satisfed with their result or not.
Published Apr. 5th 2016