Wartune Rates Itself; ESRB Isn't Thrilled
ESRB asks Wartune to stop marketing itself as rated "Adults Only."
Wartune, a strategy hybrid MMORPG from Chinese developer 7th Road has raised the ire of the ESRB. Recent ads that reportedly run on the Major Nelson blog and on Google include an image that very closely resembles the ESRB's "Adults Only" rating symbol as well as the tagline "Adult Games Only."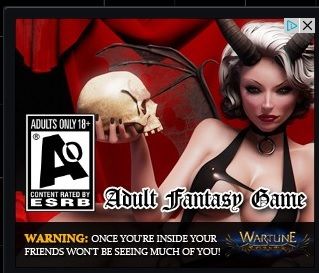 The ESRB states: "We have advised the game publisher that they must discontinue their unauthorized use of our AO rating icon in its marketing. While it's fairly rare for a game to self-apply a rating we will always move quickly to address the issue. Our goal is, of course, that they immediately stop using the rating. If a game is digitally distributed, we also encourage companies to use our Digital Rating Service, which is fast and easy and assigns ratings without the developer having to pay a fee."
Wartune is currently hosted on several sites worldwide, including R2Games, Kabam, Kongregate, and Armor Games, as well as various domains in China.
The ESRB has thus far not rated the game, and even if they had the use of the rating is against ESRB guidelines. The rating system guidelines state that no advertising should "glamorize or exploit" ratings. The Wartune advertisement is clearly attempting to celebrate this rating as a draw for users.
All of the press Wartune is receiving for this disregard for ESRB regulations is probably being celebrated by the Chinese company, but it is likely they will cease and desist with this campaign.
Published May. 14th 2013