GameSpot Hit With Layoffs
A significant round of layoffs have hit Gamespot. Among those who have been affected include Justin Calvert, Carolyn Petit, Maxwell McGee, Ryan Mac Donald, and Benito Gonzalez.
GameSpot has been hit with a significant round of layoffs. Among those who have been affected include Justin Calvert, Carolyn Petit, Maxwell McGee, Ryan MacDonald, and Benito Gonzalez.
Carolyn Petit, now a former GameSpot reviewer mentioned that she was proud of the work that she has done at GameSpot and gave credit to the other colleagues who were affected by the layoff. She posted a series of tweets on Twitter where she confirmed that it was her last day at GameSpot. Her review on Grand Theft Auto V on GameSpot garnered a lot of criticism for her view that women in the game were "portrayed as strippers, prostitutes, long-suffering wives, humorless girlfriends and goofy, new-age feminists we're meant to laugh at."


Tom McShea also posted a tweet to confirm that he is leaving GameSpot:

GameSpot has been touted by CBS Interactive, which runs GameSpot and also owns Giant Bomb, GameFAQS, and onGamers, for streaming 50 million hours of live gaming content every month. Additionally, 25 million monthly visitors visit the site across all its gaming platforms.
The full extent of the cuts are believed to reach beyond the editorial team. When contacted, a GameSpot executive acknowledged the cuts, saying, "GameSpot did some shifting of internal resources as part of our long-term content and user engagement strategy. A few positions were impacted."
The list of staff confirmed to stay on GameSpot include Jess McDonell,
Danny O'Dwyer, Justin Haywald, Chris Watters, Kevin VanOrd. Kevin and Justin posted tweets to acknowledge the layoffs and send their regards to the staff affected by the layoff: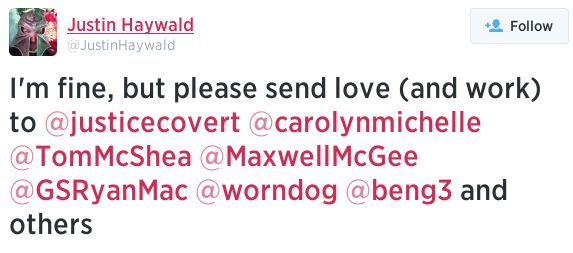 No detailed reasons were given for the layoffs, but could this mean that the future of video game content on the internet be video based, which would result in less need for staff writers?
Hopefully this will lead to leaner and better content from GameSpot, and the laid off staff will find a different platform/site to work on.
Published Jul. 31st 2014