Why An NFL Star Bought eSports Team Rise Nation Gaming
Roger Saffold, the only NFL player who owns an eSports team, explains why he believes in pro gaming.
LOS ANGELES -- St. Louis Rams offensive lineman Rodger Saffold attended the Major League Gaming (MLG) Anaheim eSports competition in 2013. The gamer liked what he saw so much that he invested in Rise Nation Gaming. That eSports team emerged as one of the best Call of Duty Ghosts teams in the world this year, competing at the Call of Duty Championship in Los Angeles.
Saffold, who was the 33rd overall pick in the 2010 NFL Draft, was in LA to coach and encourage his team to victory. The NFL star, who just signed a five-year, $31.7 million contract extension with the Rams, talks about his love of eSports and why these pro gamers are similar to athletes in this exclusive interview.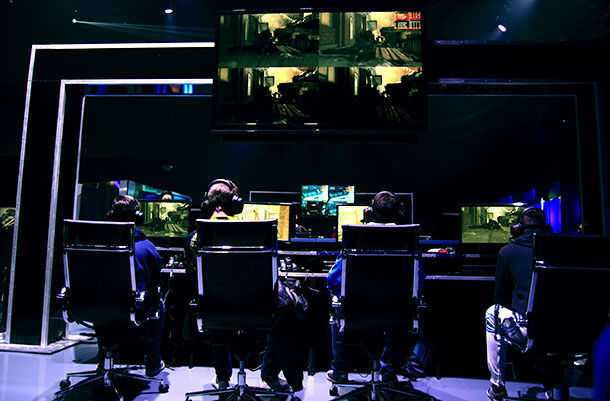 What it is about eSports that got you interested?
Saffold: "I've always been a big Call of Duty fan and I was really excited about eSports. I got on the Twitch and I started watching the events. Then after that I had my own Twitch and that's how I pretty much got involved."
When it comes to owning a team, what kind of step was that for you?
Saffold: "Oh, it was a big step. We did a lot of planning before. The idea was pretty easy to come up with, but actually getting everything together, getting the players, getting the sponsors, that was the tougher part."
What do you think of eSports and these players being cyber athletes, being a professional athlete yourself?
Saffold: "Hey, we've got all types of professionals out there. We got a lot of professionals that are professionals in their mind, and this is definitely a mind game. I don't know how they deal with the stress. I deal with anticipation myself and everybody just can't wait to get going in a competition."
How does your sports background help when it comes to stepping in and mentoring these guys?
Saffold: "It just helps basically with building and managing the team. I'm able to manage their personalities pretty well. I do a couple of incentives to try to help them play better and things like that. It just makes everybody closer. I'm able to do that just from my own experience with playing football."
Do you have a sense talking with other NFL players that eSports is on people's radar today?
Saffold: "I have a million people wishing that they were joining me right now. The only thing that I told them is if you're going to be committed to this, you're going to have to be committed to it. I've had great help from the co-owner of my team, Rise Bomber. He's been helping me out a bunch with all of this, especially with everything else going on like free agency."
As someone who plays Call of Duty what are your thoughts about this as a real sport?
Saffold: "Oh, I think it's great, man. It's a lot of excitement. The gaming community is just growing exponentially and I've received so much support. Who wouldn't want to be a part of this?"
Staples Center was sold out with League of Legends last year and now soccer stadiums are hosting Dota 2 and eSports events. What are your thoughts about eSports moving into real sports arenas?
Saffold: "That's great as well, and I hope that Rise Gaming can continue to expand."
When it comes to other video games are you looking at League of Legends, Dota 2 and StarCraft II?
Saffold: "There's been a little spark here and there that have gotten me really interested. We have the resources to do what we need to do as far as that goes, but we need to do a little bit more research before we venture out any further."
What are your thoughts about the teamwork that's required for a game like Call of Duty Ghosts?
Saffold: "Oh, man, communication is key. Everybody knows that, and basically your reaction from that, that's basically trusting your teammate. Communication and trust are the two biggest keys I feel in playing this game."
When it comes to your own experience playing video games, how does that help when it comes to mentoring these guys?
Saffold: "I just understand it more. When they tell me things are going on I can understand, which is why I want to do a little bit more research with other games before I decide to enter those."
A million dollars was up for grabs in the Call of Duty Championship. What impact do you feel these big purses will have in pushing eSports to the next level and getting more mainstream acceptance?
Saffold: "I think that it's already doing that as is. The money is just basically for these kids. These guys are going out here, they're practicing their work and they're doing what they've got to do. They're on the big stage and now we're going to see who comes for the money. I just enjoy the ride."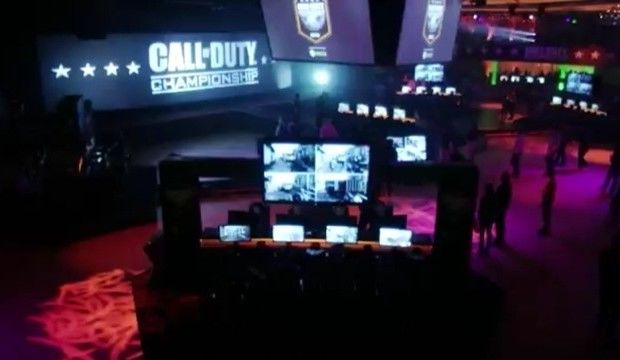 What are your thoughts about the fact that eSports actually exists as a career today for kids?
Saffold: "It's crazy. I didn't even know about it, but I just enjoy playing so much. I was always online. I love the bragging rights. And now here I am. I finally see everything for the first time from a first-person view instead of on a computer screen. It's all good for these kids. It shows that video games can bring you some money now. It's not always a waste of time."
And it's not only just playing at tournaments but livestreaming on Twitch and MLG.
Saffold: "Exactly. I've seen new games that I thought I would never look at through Twitch. Sometimes when you're bored you can just browse around and find something that you might end up falling in love with. I like how everything is so interconnected."
What do you like to play for fun outside of Call of Duty?
Saffold: "Outside of Call of Duty, man there's not much. I've played Halo a bunch. I've played some of the adventure games with some of my friends, but all in all, man we play Call of Duty. That's what we do. That's our job."
What are you looking forward to with the Call of Duty DLC?
Saffold: "Oh, man, I can't wait. Right now I'm still on Titanfall, but other than that man I don't really have any other plans than jumping on with my friends and continuing to slay players and then talk trash."
Do you see a Titanfall potential for esports in the future?
Saffold: "I'm not sure. It's a little bit more complicated, but I think that anything has a potential. You've seen League of Legends. That's out of control. It's crazy."
And League of Legends is not an easy game to play either.
Saffold: "Not at all. I've tried. I'm one and done."
Published Apr. 10th 2014