SOE Live 2013: We're Here!
We've arrived at SOE Live 2013; here's the inside scoop on what to expect.
As we stepped into the blanket of the hot Las Vegas sun the excitement was palpable.
Entering the floor of the Planet Hollywood Casino and Resort (in slow motion, of course) Chad and I watched as dozens of gamers swarmed the mezzanine level, eagerly awaiting this afternoon's registration. It was then that Chad and I were sure of one thing: We had arrived at SOE Live 2013.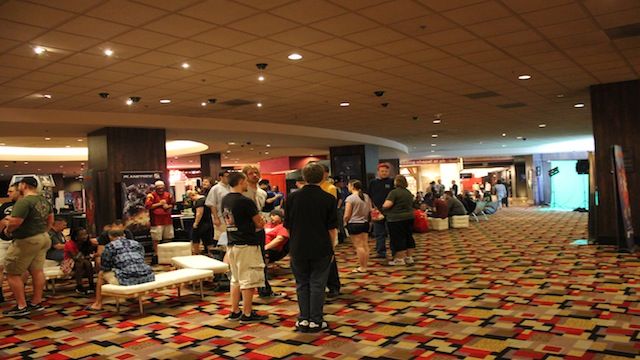 **This is just a portion of the line at two hours prior registration. Expect riots.**

The news doesn't start officially flowing until tonight, but that didn't stop us from trying to unearth some inside info from some of the developers and fans in our adventures last night. None of this has been explicitly confirmed as of now, so file it under in your "predictions" folder. But that being said, we have it on good authority that said predictions are at least somewhat likely:
You'll be seeing a huge change in some items in

EQ2 coming up this weekend. No longer will you have to sift through number after number to decide what is best for your avatar's strengths. It seems as though it will be a little more streamlined, making room for greater complexity in different areas.

You may also get an inkling of the storylines of

EverQuest

and

EverQuest 2 meeting up in some way. We don't have any specifics, but we were led to believe that players will at least see some noticeable influence that the separate games will have on each other in future updates.

EverQuest Next will probably blow your mind. We didn't get a single line of solid information other than something along the lines of: "They're doing stuff that's never been done before," and "you've never seen anything like it in gaming." Either way, I'm excited to see it – unless it's a really elaborate troll and it turns out to be some weird rebranded Tamagotchi

MMO. Actually, that sounds cool too – I'd be down with that.

We've heard whispers of PS4s running

Planetside 2

and

DCUO possibly making an appearance on the show floor. At E3 it was announced that the games will absolutely be playable on the PS4 , but we'll just have to wait and see if they make an appearance here. You can be sure that I'll have a gushing schoolgirl-esque write-up of my experience if the system makes an appearance here (just as soon as the tears of happiness dry).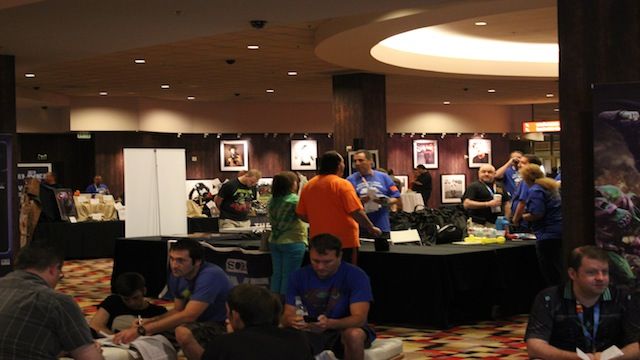 **Fans and staff alike wait for their chance to nerd out.**

We haven't heard much new information about other games like PlanetSide 2, DC Universe Online and, of course, Dragon's Prophet, but you can be sure that we'll have all of the information we can get our grubby gamer hands on as soon as it's released.
The real festivities are starting tonight at 7 p.m. PST, so Chad and I should have some more news for our lovely and loyal readers following the SOE Live keynote. Make sure you keep your browser firmly locked to GameSkinny and have your finger planted on the F5 key. Make sure you also check out my forum post and let me know what you want to hear about from developers. We're doing our best to track them down, Sherlock Holmes style, and get the news that YOU want to hear.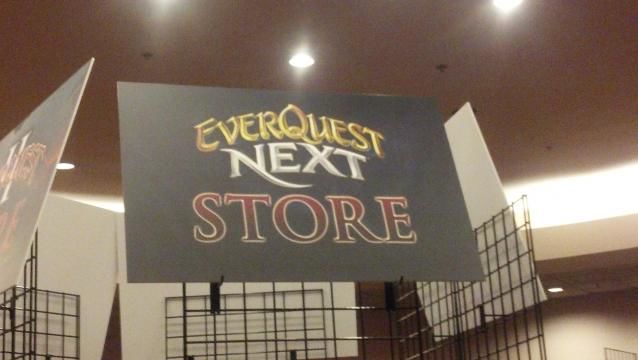 **The logo for EQ Next, as discovered by my cohort Chad last night.**
What are you most excited to see coming out of SOE Live this year? Is it the reveal of EQ Next, or the new info for any of the other huge SOE games? Sound off in the comments down below and maybe I'll let you watch me get repeatedly murdered in PlantetSide 2 later on.
Published Aug. 1st 2013