Nintendo's E3 All About The Gaming Experience, Or How Survive With No New Hardware
Nintendo takes a unique approach to this year's E3, focusing less on technological innovations and more on the power of the gaming experience.
This year's E3 has been a bit...shall we say "unconventional" for the folks over at Nintendo. Unlike their competitors at Sony and Microsoft, who are essentially using this year's show as a platform to premiere all that their new systems have to offer, Nintendo is a year ahead of the curve, as it was at last year's convention that the company unveiled their 8th Generation console, the Wii U. But while being ahead of the game certainly has its perks, it doesn't necessarily ensure victory.
While the Xbox One and the PlayStation 4 duke it out for the unofficial "best in show" title of this year's E3, and perhaps more importantly for momentum going into this year's Holiday season, the Wii U has been largely overshadowed. In short, the console is promising, albeit old news. In an effort to combat this stigma on the system, president of Nintendo America, Reggie Fils-Aime, directed gamers away from this year's emphasis on newer, better hardware with a simple three letter mantra: "Play the game."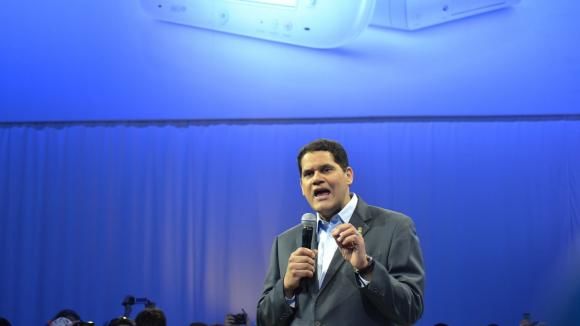 That's a nifty little saying, Mr. Fils-Aime, but what are we supposed to make of this credo?
In short, what Nintendo is trying to say to its consumer base, to the world at large, is that the proof of the Wii U's capabilities is in the proverbial pudding. Though the company may not have any new gadgets to compete with the excitement over Sony and Microsoft's respective new products, its current 8th Gen console has already slowly been accumulating games that show off its prowess.
Fils-Aime even took a jab at the ongoing controversy over the issue of game-sharing and downloadable content on the new generation of systems that characterized his competitor's press releases. "What type of magic box is going to play my game? Can I get it through hard copy or download? When can I get it? These questions are secondary," said Fils-Aime declared. "What matters is how you feel when you play a game." A rather common sense, but nonetheless rousing sentiment, to say the least.

Immediately following this quasi-call to arms, Nintendo developers took the stage revealed plans for some upcoming entries in the Wii U catalog like The Legend of Zelda: The Wind Waker HD, Super Smash Bros Wii U, and Pikmin 3. Along with this promising stable of titles, Nintendo also reminded the audience of the major third-party releases coming to the Wii U, such as Assassin's Creed 4: Black Flag and Batman: Arkham Origins. Though the U has received some criticism for its lack of titles so far into its lifecycle, this combination of Nintendo exclusive and multi-platform titles will almost assuredly relieve some of the pressure on the system.
So, despite its lack of new hardware, Nintendo will make it through this year's E3.
The question now, however, is at what cost? True, the Wii U's set list of "coming-soon" titles is formidable; but will the excitement generated from these games be enough to entice a gaming world that's already glued to the melodramatic power struggle going on between the Xbox One and the PS4?
Fils-Aime made a good business move yesterday during his speech: when you don't have anything up your sleeves, lean on what you have going for you, which, in this case, is Nintendo's unique gaming experience. What Nintendo doesn't have going for it, however, is momentum. As promising as it is, the Wii U has seemingly underperformed thus far, and that is something that neither Nintendo, nor we, the gaming world, can ignore. With that in mind, "Play the game" functions both as an energizing battle cry for gamers to rally around the system, as well as an enervated plea for them to stick with the U.
Obviously I can't say which way the Wii U will go during this gaming cycle. Like its predecessor, it very well could be the most financially successful of this generation's consoles. Or, on the other hand, it could be the biggest flop since the Dreamcast. Only time will tell, of course, but until this drama plays itself out, at least we have the promise of some great new games on our hands!
Published Jun. 13th 2013