Minecraft's Xbox One Player Limit is Not Feeling Next Gen
While the player limit may not be next gen, the upgraded graphics should be enough to keep the angry villagers at bay.
The player limit has been set for Minecraft: Xbox One Edition and it is leaving many gamers feeling a bit frustrated.
When the Minecraft: Xbox One Edition trailer was released at E3 last year, with the slogan "Bigger Worlds! Bigger Multiplayer! More Minecraft!" many fans hoped that the player limit would be expanded from previous gen consoles:


So naturally it came as a bit of a dissapointment when Microsoft Studios' Roger Carpenter confirmed via twitter that "[the game] will be 8 player at release but we will continue working to allow more players in a future update!"

While it is still unknown what the limit will be on the PS4 version, but it can be assumed that the number will stay at eight.
On the upside, Mojang has confirmed that there will be notable graphic and gameplay improvements including support for 1080p resolution at 60fps, worlds 36 times larger than previous gen versions and an improved render distance.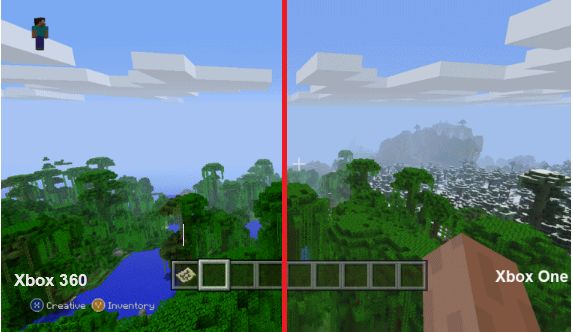 Side by side comparison of render distance on Xbox 360 and Xbox One

Also on the upside is the fact that players who already own the game on Xbox 360 or PS3 will recive a discount when they upgrade to the new edition of the game and will also be able to transfer files between the previous and current generation.
Minecraft: Xbox One Edition has a confirmed release date of sometime in August and there still is no word on when the PS4 version will be released.
Published Oct. 27th 2017