Nintendo's 2D Steps: The 2DS
Nintendo announces a new variation on the 3DS.
Nintendo is decking the halls for the holiday season, but some of the decorations seem to be a step backwards. They are getting rid of the hinged design and the 3D, folks.
I like to call it the Nintendo Tablet.
Nintendo has dubbed this device the 2DS.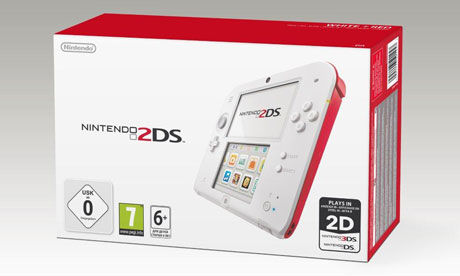 Now, they claim that this device is meant for entry level gamers [read: the youngster Joey's of the world], but there seems to be more at work. Since its launch two-and-a-half years ago, the 3DS has shiped about 33 million units, but the original DS machine had sold more than 45 million units within the same amount of time - this seems to be the reason for the 2DS's cheaper starting price.
The 2DS seems to lack the hinges and the 3D capabilities, but the internal hardware is all the same, and you still have wireless capabilities and the camera functions. The 2DS is basically a repackaged 3DS, minus the 3D.
The launch of the 2DS, combined with the lowered price of the Wii U, seems to be Nintendo's current plan to close the sales gap and prepare for Sony and Microsoft's next generation of consoles. The PlayStation 4 and Xbox One are much more powerful than the Wii U and their head-to-head hype war has led to impressive pre-orders for both contenders, leaving Wii U and 3DS in the shade. At the same time, Nintendo's handheld console is having to complete against smartphones and tablets as well as the PlayStation Vita, a more advanced handheld gaming device that may well receive a boost thanks to its close compatibility with the PS4.
How do you feel about the reveal of the 2DS and any upcoming information?
Published Aug. 29th 2013