Sean Day9 Plott Explains What It Takes To Be A StarCraft II Pro Gamer
Sean "Day9" Plott, who has built a small empire aimed at growing the world of eSports, explains why StarCraft II is on the rise.
Sean Plott has emerged as one of the leading voices, literally, in eSports today. Known as Day9 by millions of fans, Plott has turned a love of gaming into a career. The former StarCraft: Brood War pro gamer is now a caster for StarCraft II.
The native of Leawood, Kansas focused on mathematics at Harvey Mudd College and received a Master's Degree in Interactive Media from the University of Southern California. He's put that education to good use. Today he oversees a multimedia empire, Day9TV and Day9Daily, where he connects with millions of fans of Blizzard's games and helps them improve their own virtual skills.
Plott travels the globe to cast at events like DreamHack and BlizzCon and he's a regular for Red Bull LANs and the inaugural Battle Grounds event last month. He also founded the After Hours Gaming League, which has teams from companies like Microsoft, Riot Games, Blizzard and Google competing for charity by playing in StarCraft II and League of Legends tournaments.
This league is the latest example of how eSports is expanding. With more fans cognizant of pro gaming, the comparisons between cyber athletes and real athletes is becoming more obvious.
"The biggest thing is you have to spend a lot of time practicing and you have to know exactly what you are practicing," said Plott. "It's not just the hours put in. It's having that clear focus, and in particular, the endurance to go through. If you ask any Olympic athlete how they managed to do what they do or ask what tips do they have if I want to become an athlete, they won't tell you about how much weight you're going to have to lift or what equipment you're going to use. They're going to talk to you about mental discipline. They're going to talk to you about having a regimen and following it and how to stay focused and get in the zone. That all carries over to gaming."
Plott said if you're a pro gamer you live, eat, drink, breathe and sleep gaming. It's a lifestyle, which is why many pro gaming teams in the US are following the routes of Asian and European teams and establishing Gaming Houses to allow pros to live the game 24/7.
"You look at what pros do and they're like anyone who's passionate about the thing that they do," said Plott. "You know they'll play eight to ten hours a day and when they're not playing, they unwind by watching some of the pro matches and learn from them. They'll go out with their teammates and talk about strategies. And then on the weekends they go to tournaments and training places."
Plott recently served as caster for the inaugural Red Bull Training Grounds in Santa Monica, where eight of the top StarCraft II players competed for $8,000 in prizes. While Gaming Houses allow for practice, nothing replaces the pressure when money is on the line.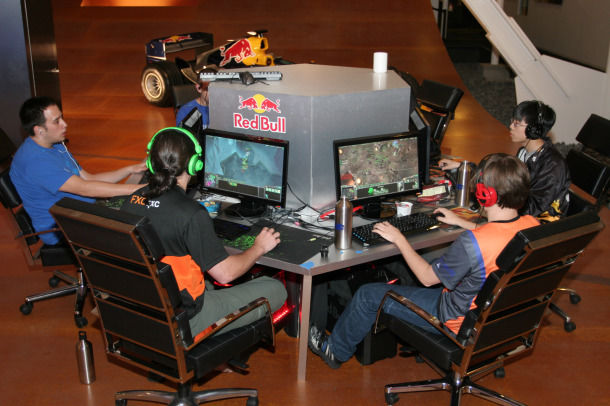 "These events give players the experience of playing in a tournament," said Plott. "All the structures that are put into these events are designed with that in mind – like battling for $100 on every game. You get pressure in every game. So even players who are eliminated from the event get a little pressure in those games, because it's so easy when you're playing to give up if there's nothing on the line."
While League of Legends is the most popular game in eSports today, StarCraft II has a huge global following. The launch of the latest expansion, Heart of the Swarm, has helped boost the game's popularity this year.
"There are so many diverse strategies and the strategies now tend to be based more on finesse and execution than on just the 'whoops you didn't have the right defense prepared so I won.' You get these really interesting back and forth struggles. We've seen tons of spikes in viewer numbers with a lot of the major events. At the MLG Championship that happened right after launch, both of the DreamHack events, and the WCS Europe all peaked about 125,000 concurrent gamers, which is about as big as really any eSports broadcast is getting."
There's a growing number of fans coming into eSports that are learning the intricacies of what goes into a StarCraft II match. Plott said it's as complex as playing a game of chess or playing a game of Go.
"It's complex as trying to construct a car from a bicycle while you're riding that bicycle down a hill," said Plott. "That's the skill that you have to do because it's not just thinking about what you're doing and having the good strategy and the good thought process behind it. It's also executing on that and then responding to all the changes that are coming at you in the form of what your opponent is doing. So it's a mix of being like a pianist and a problem solver."
Plott knows about those skills, having established himself as one of the best Brood War players in the world in his former life. And now he parlays those skills to help the future pros of eSports.
Published Jul. 5th 2013