Quakecon 2015 Dates Revealed
Developers id and Bethesda announce their scheduled dates for the 2015 QuakeCon
QuakeCon, one of the foremost conventions in North America, is turning 20 and wants you to join in on the fun.
QuakeCon is a gaming convention in Dallas, TX that offers up more than just the standard convention-esque panels. BYOC, Bring Your Own Computer areas are available for those looking to level up their LAN experience. The usual panels do exist on a separate floor, and they normally include: demos, previews, and the infamous Swag booths.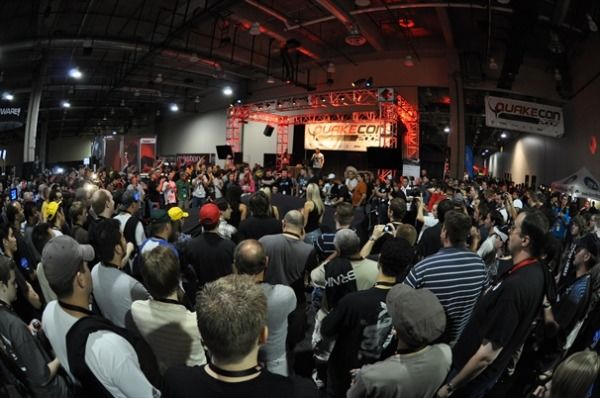 Founded in 1996, QuakeCon started off as a small get together with a few gamers from around the world who met in a text based communication channel labeled as #quake. They each expressed interest to meet and game in person, so they made the arrangements at a local hotel in Dallas. Originally 30 gamers were set to attend the event, but quickly grew it into 100 as word got around.
Gaming tournements took place,T-shirts were given to the victors. One of the most noteable moments of the meeting was that developer John Carmack, lead programmer on Doom, visted on the last day and had a brief Q&A with the attendees.
QuakeCon is a free to attend event that has a split personality.
QuakeCon is hosted by ZeniMax Media, who publishes games through companies like id Software and Bethesda. The convention floor serves as a place to promote the games from those companies (and more) while on the other side, the BYOC area focuses on getting together and participating in tournaments which was founded in the first years of the convention.
Usually hosted in the summer, 2015's dates have been set for July 23 through the 26 at the Hilton Anatole Hotel in Dallas.
This year marks the 20th anniversary of the convention. Getting one year old also mean another year wiser.
The convention plans on continuing its growth with its "panels and presentations given by top industry luminaries" according to QuakeCon. They hope to keep on impressing attendees, like they did this year when folks got to see exclusive footage of the DOOM revival.
With its reputation for success, it doesn't surprise me that QuakeCon is still going strong after 20 years. I know plenty of gamers who have started registering early, so I recommend you save yourself a spot (and maybe a hotel room) early.
Published Sep. 28th 2014