Top 5 Free Otome Visual Novels for and by a Western Audience
A list of visual novels that every fan should play and every rookie to the genre should be recommended.
It was only a few years ago that the concept of a "Visual Novel" (VN) or "Dating sim" was scarce on the Internet -- in English anyway. I remember scouring the internet for any crudely made flash games on Newgrounds or DeviantArt that would satisfy my need for not just visual novels, but anything that was narrative-filled and RPG-based... which were next to non-existent at the time.
"My Candy Love" (2011)
An online episodic dating sim also available on Android

Nowadays, these are games are abundant -- with many titles such as Amnesia or Hakuouki being localized on a variety of platforms. This has even extended to mobile gaming, such as the Shall we Date? series which is incredibly popular, even with microtransactions.
However, while popular in Japan and for those that like VNs, there are still certain elements that western audiences may find a little disdaining, such as the common weak, meek heroine. Another is the popular 'yandere' trope, whom often treats the heroine with abuse, violence, or even rape -- all of which are understandably sensitive topics disapproved by many people.
"That Cheap and Sacred Thing" (2011)
A kinetic novel about the bond between humans and robots.
On the other hand, more and more visual novels are also being created by western fans, both commercially and for free. These creations show a diverse range of stories that are more well-versed and demonstrate clear understanding of the VN audience.
I have hand-picked a list of great western-made visual novels, which are not only fun to play but are also completely free. This would be a great list to recommend for people who are new to the genre, as they offer different types of narratives, lengths, and gameplay elements.
1. Halloween Otome
Halloween Otome is a visual novel with puzzle elements, situated around a normal girl who wins a contest to a masquerade where only the rich and famous are invited. Forced by your best friend, you don an Archer costume and team up with a werewolf, a zombie, and a vampire to work together in order to win the game -- and possibly the heart of one of your teammates.
This game takes a more traditional route, showing clear influence from Japanese visual novels with the art-style and character tropes, but incorporates them well into the plot in terms of how their personalities relate to their jobs. The puzzles are also cleverly integrated, making them actual puzzles that the characters go through, rather than out-of-story hurdles. Best of all, the heroine is very head-strong and provides an entertaining back and forth that is very enjoyable to read.
What gives this game bonus points is the extra content provided. This includes two addicting soundtracks made specifically for the game, a digital fanbook that features more art, and an 'Extras' sections on the game's website consisting of bonus scenes and what-if scenarios. These remind me of the bonus content, such as traditional fandisks and drama CDs that commercial games release -- making it that much more professional and commendable, especially given that these are all provided for free.
2. Asagao Academy
Asagao Academy is essentially a 'fanmade' visual novel, as all the love interests are based on real-life youtubers that belong to their own gaming group called "Normal Boots". However in this game, they are fictional characters in a gaming club of the same name who are the most popular students in the school, and you want to be one of them.
Although their designs are based on their real-life counterparts, the characters themselves are fictionalized, having their own personal issues. These issues run deep and actually touch upon relatable problems -- particularly the main heroine, Hana, who has a history of bullying and lack of confidence. The plot explores Hana and her chosen love interest's story and their journey of love, growing up, accepting themselves as they are -- especially during the age when one would find themselves questioning their identity.
This (free) game was the result of a successful Kickstarter campaign that not only showed the loyalty of its fans, but also the great prospect it had to offer. The game stuck by its word and delivered a brilliantly written and unique story that, despite being based on something else, still delivers a powerful and touching story as its own entry.
3. Aloners
Aloners is an apocalyptic-themed visual novel where you wake up from a long sleep in world much different from your own, and try to survive with one other human called Trash.
This VN has minimal graphics because it uses free-sourced backgrounds and music, and only one character (Trash) that you visually see throughout the game -- with other characters being left to the imagination. But this emphasizes that apocalyptic feeling of being alone and ultimately makes you become attached to him.
What definitely shines through is the unique and thrilling narrative of both the surroundings and the character interactions. The options you choose throughout the game will affect your character's actions and the reactions of others, which is a nice touch that allows you to have a more unique experience.
I will definitely say that the star of the game is Trash himself. If he doesn't grow on you with his looks, his personality will definitely make you take a shine on him. His character's whole aesthetic brings him to life, making him a lovable character you can't not be drawn to, especially since he is your only friend in this abandoned wasteland. This game is a great example that shows that you don't need fancy graphics to make a visual novel great and emphasises the appeal of a visual 'novel'.
4. Cute Demon Crashers! (18+)
Cute Demon Crashers! is a moderately short visual novel that is a little on the adult side, but I included it on this list precisely because it is a great example of a visual novel that understands its western audiences.
Its plot is situated around a virgin heroine, who has 4 attractive succubi crash into her house as they sense her need for a 'summer fling'. Unlike many otome games that have the romance-able males force themselves onto the heroine (sexually or flirtatiously), it focuses on sexual relationships but emphasises the heroine's (or player's) preferences on how they prefer to go about it. The game's description says that there is a "need of consent and safe spaces in 18+ VNs for women" showing that western perspective on sensitive topics.
The 4 main demons all represent a specific personality -- and by extension, sexual preferences, with each one exploring different experiences such as same-sex, BDSM or even a fellow virgin succubus. With beautiful graphics and CGs, it also includes the option to censor sexual images, once again taking its western audience into consideration (although I recommend experiencing the game fully).
All in all, this is a short but touching visual novel with characters that are very fleshed out and a plot that is sweet. The dialogue and writing doesn't patronise the player when it comes to talking about sex.
5. RE: Alistair++
This game is one of the forefronts to western visual novels and also the first game created by indie group Sake-Visual. RE: Alistair++ is one of the first "high quality" free visual novels made that many can agree definitely helped the popularity of visual novels in the west.
The game is beautifully constructed, especially given its time of release, that it's honestly surprising it was free. You play as Merui, an avid fan of MMORPG Rivenwell Online. One day while fighting a powerful boss, another player called Alistair steals the finishing blow from her and takes her loot. And she soon learns that it's someone she knows from school -- and must find out precisely who.
The heroine herself is relatable because of her hobbies and likeable due to her honesty and brashness, which sets her apart from the docile protagonists in common otome games.
RE: Alistair plays on the classic stat-building mechanic to trigger events and unlock CGs of the love interest you want -- and this creates a perfect balance to the length of the game as a whole, because it gives you a sense of free will in the game. The narrative is well-written, the graphics beautifully drawn, and the aesthetic and interface ties it all perfectly into a classic otome game for westerners.
-----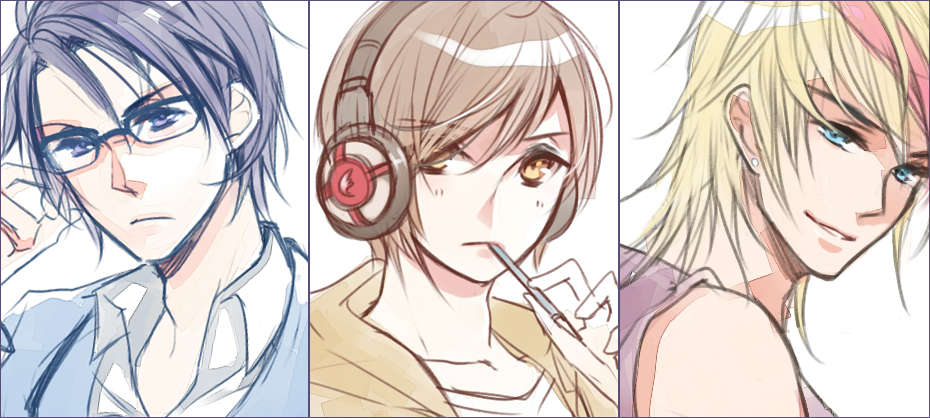 Do you agree with this list? Are there any other visual novels that you recommended to both veteran and new players alike?
Published Oct. 24th 2016