Walmart Video Game Trade-In Won't Hurt GameStop: Here's Why
Wal-Mart boldly going where GameStop has gone before, but should they worry? Nah, and gamers will come out on top either way.
Beginning on March 26th, retail empire Wal-Mart will expand into dealing with video game trade-ins throughout their stores.
This of course means a person who brings in a used video game can be compensated for it, albeit only store credit and not physical cash. The value of course will fluctuate from old games and new, 35 dollars or even more. As of now, businesses Amazon, Target, Best Buy, GameStop and others also offer video game trade-in programs that offer store credit or cash for video games.
"Gaming continues to be an important business for us and we're actively taking aim at the $2 billion pre-owned video game opportunity,"

-Duncan Mac Naughton, chief marketing officer for Wal-Mart U.S.A.
GameStop shares reportedly down 4.53 percent to $37.95 a share. This entry into the market however, should be nothing but a minor disturbance for the likes of GameStop and its powerful profit margins.
GameStop has a vital card to play in the ongoing war with numerous companies and the used game market: incentives.
With discounts and bonus points galore, gamers are vastly more attracted to the powerful reward catalogues. An ace in the hole surely, GameStop has the advantage of an established program, Power-Up Rewards, that will prove formidable for the likes of Wal-mart.
GameStop has built a loyal customer base.
There is no shortage of consumer support that GameStop has accumulated over the years. People have grown accustomed to and even grown dependent on GameStop therefore will naturally venture to the enterprise for all their gaming fixes.
GameStop Employees Know Games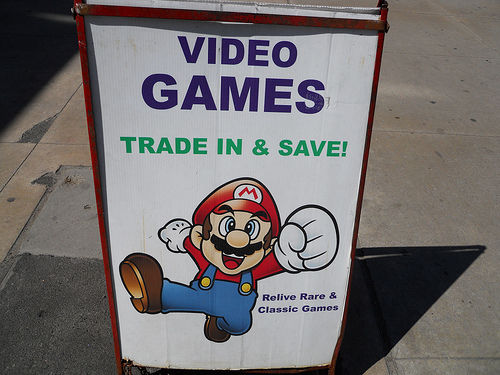 Employees from GameStop have unprecedented experience with the trade-in business as well as reliable support from a pretty sizeable database. Meanwhile in Wal-Mart land, we have workers who must learn this new trade and dive into the field with unsure tactics and questionable performance.
In the battle of Wal-Mart versus GameStop, we're the real winners.
All in all, this is a brave business attempt by Wal-Mart that is sure to keep GameStop at least on a leash we as the buyers can benefit from. With more completion, there are going to be some inevitable sales, with wicked discounts and more money on our trade-ins. Let's see who will provide the best overall deals with individuals about their used games.
Published Mar. 24th 2014