Injustice Battle Arena Round 4
Round four has come and gone, next stop: quarterfinals!
The newest Injustice: Gods Among Us battle arena gameplay trailers are up, and we can see the mighty and the modest both strutting their super-powered stuff.
Bird and Bow
Hawkgirl and Green Arrow were actually both interesting to watch, with Hawkgirl working pretty much as expected but Green Arrow having some capabilities that were a surprise.
For her part, Hawkgirl has a specific type of speed. Her moveset seems more hard-hitting than fast, but she has several ways of crossing the battlefield, including what looks to be actual flight she can do a diving kick or projectile out of. She can also use the projectile, throwing her morning star, while standing, giving her a just a little bit of long-range mix-up.
As is fitting her primary shtick seems to be an ability to attack from any angle at any time, ground or air, making it difficult to predict where she'll hit from next. Her finisher gives her momentary hit-stun resistance before she grabs her foe, carries them above the clouds, and smacks them a few times before letting them simply drop to the ground.
Green Arrow impressed me. I expected a complicated ranged game, but he showed a variety of short, juggle-chain capable combos that look simple enough individually but capable of extreme amounts of mixing and combination. He does also have the ability to fire his arrows, both from the ground and in the air, in multiple directions, making him dangerous to approach.
His finisher was unimpressive except for how it ends. A few arrows fired into his target and a flip, but interestingly he was able to combo directly out of it, further adding to the potential to mix up his game.
One other feature we saw for the first time in this match was a sort of duel, where both characters squared off, posed, spouted a line, then clashed in dramatic slow motion before one was sent flying. How this mechanic actually works is a mystery, but the cinematic prospects are exciting.
Steel and Fear
Superman and Sinestro are the big dogs of the Injustice battle arena's fourth round, both powerhouses of the DC Universe. Sinestro was one of the characters I was most excited to see in the game, and I am pleased with his abilities.
He immediately shows off a ranged disable and attacks with a longer range than his actual size would imply, both horizontally and vertically. Several types of projectiles, including creating constructs that slam down on his target at a distance and stab up from the ground, give him good zone control. Another move summons an orb over his shoulder that periodically fires at his foe, giving even more ability to string projectiles.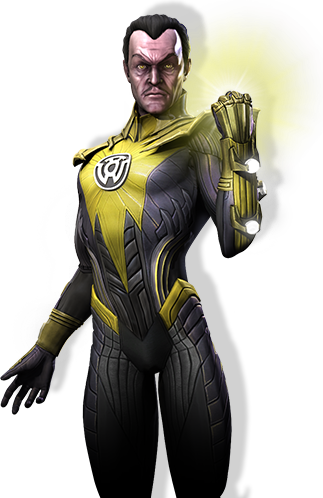 The yellow lantern also showed an ability to stretch out his combos using his special moves, using throws, combos, his disable, and projectiles all to stretch out what otherwise look to be simple moves into a very far-moving and likely complex series of attacks. Probably a very complicated series of inputs and timing to pull off, but also likely to be highly damaging.
His finisher pulls his target into orbit, slams them with a pair of asteroids, then blasts them back to the battlefield. Intriguingly, he also shows a move that has him stand still on the ground, possibly a healing technique, but he also performs it before summoning the projectile-firing orb, so perhaps that move simply has a power-up time.
The Man of Steel has always been one of the big three staples of DC, but he is done justice. His many abilities seem included in various forms, including flight for gap-closing, his heat vision for projectiles (which can knock-back), breath to either free or knock back his foe, and short but punishing combos for his strength.
He shows an air grab, his heat vision fired from the air, tremendous speed in crossing the battlefield, and an aerial diving attack. A varied moveset that shows promise and adaptability to his foe's strengths. His finisher punches his opponent straight up into the outer atmosphere, where Supes meets them to punch them straight back down.
Injustice looks more and more exciting the more we see, and these battle arena trailers have finally shown me enough to start picking out my favorite characters. Watch for the quarterfinal voting, it's going to get crazy.
Published Aug. 1st 2013