Sanctum 2: Road to Elysion Interview with Armin Ibrisagic
Armin Ibrisagic provides insight into Coffee Stain Studios' design philosophy and information on the Road to Elysion DLC.
I got a few moments with Armin Ibrisagic, from Coffee Stain Studios, to talk to him about Sanctum 2 and the Road to Elysion DLC, which is coming out on June 26th. Armin provides insight into the healing monsters in Road to Elysion as well as info on the new companion robot (and a great piece of concept art). We also talk about the Coffee Stain Studios design philosophy and their process of developing Sanctum 2.
I enjoyed Armin's take on the interaction of mobile and PC gaming and this is an ongoing interest of mine. After reading Armin's comments I can understand his perspective. I think that maybe mobile is not influencing PC as much as mobile may be a valuable test for "design by reduction". Either way, it clearly works for the Sanctum 2 team.
Armin - Take it Away!
GameSkinny [GS]: I'm a long time gamer, but FPS+Tower Defense doesn't strike me as obvious. Can you point to a person, a conversation or a moment where that idea was born?
Armin: We're all big fans of Tower Defense games at Coffee Stain Studios, we used to play tons of Warcraft 3 Tower Defense and Maul games. However, we always found that you kind of only played half of the game - you got to build stuff and plan your maze, but once the enemies attack you had to sit back and watch the towers do all the work. So the idea behind the FPS/Tower Defense hybridization was to give players cool guns, throw them inside of their own maze and let them take part of the action.
GS: In many ways Sanctum 2 is really Sanctum "Reborn". What was the process of getting to that point of not just evolving, but essentially recreating your idea?
Armin: When Sanctum 1 was released it was very much an unfinished game. It had only 3 maps, and very few weapons and enemies. We would have developed it more if we could, but as we're a self-funded indie studio, we simply had to release it as our money ran out. After the release we quickly got a dedicated community and a lot of feedback from our players, so we patched in a lot of of new stuff that players wanted to see. However, there were some things that we wanted to add and that were frequently requested, but couldn't add due to the limitations we had in Sanctum 1. We decided to completely remake the game from the ground up and make it bigger, better and more awesome in every way. However, we felt strongly that we didn't want to be one of those game studios that release a sequel that is just a rehash of the first game - we wanted to keep the same core gameplay (build towers, shoot enemies), but innovate and keep the game a fresh and different experience compared to Sanctum 1.
GS: In early games, such as Mario, there were only a couple of game mechanics. As gaming evolved so did the complexity of the game. Sanctum 2 is a very modern visual with a very classic feeling set of gameplay mechanics. You place towers, you build bases, you shoot things. The mix is unique, but the building blocks are pretty classic. Was it part of your design philosophy to focus on core mechanics or was that a byproduct of something else?
Armin: Thanks for asking that question! During the pre-production phase of Sanctum 2, we experimented a lot with different gameplay mechanics. There were suggestions to bring in all kinds of new gameplay mechanics (mainly mechanics that expanded the RPG part of the game), but somewhere in the middle of the summer of 2012, we decided to scrap these and go for the core gameplay that is Tower Defense and FPS. We really wanted to focus on "design by reduction", meaning that we streamlined and made everything as lean and focused as possible, instead of stacking up new features that aren't needed in the first place.
GS: I hope you don't take this the wrong way, but I feel link Sanctum 2 has been heavily influenced by mobile games. There is a focus of UI and an adherence to a small set of core gameplay mechanics that I think that mobile, by necessity, has been evolving. Am I crazy or does Coffee Stain also feel that mobile development is influencing PC development in subtle ways?
Armin: We've aimed to design a clean, but at the same time informative UI in Sanctum 2. I can't speak for other developers, but we haven't taken any inspiration from mobile games. For us it's rather been that we simply didn't want to clutter the screen with too much stuff. I'm personally glad to see that this is the general direction in which UI in PC games have gone towards the last few years, however it's hard to tell if this is because of mobile games influencing the PC or if it's because developers are becoming more aware of how incredibly important UI design actually is, regardless of the platform the game is on.
GS: Sanctum 2's interface leads to very few cross platform incongruities. Was there a process, or design philosophy that allowed your team to achieve that?
Armin: Like I've mentioned previously, we've focused a lot on streamlining the UI as much as possible. The "design by reduction" philosophy wasn't a path we chose solely for the UI to translate well across other platforms, but we're very glad that it did.
GS: You recently changed resource allotment in coop. Can you talk to me about what led to that?
Armin: In our old system, resources would drop from the sky and whoever picked them up would get to build stuff. This worked fine if you played with your friends over voice chat, as you could plan ahead and decide together what you would build, where you would build it, and so on. However, when playing with strangers, it often ended up in one player picking up the resources, while the others felt left out and had to wait for the action phase. We changed the system to drop resources for all players, which we received very good feedback on, and players were really happy.
However, we weren't fully satisfied yet, we wanted a system that would a) work well in co-op sessions with friends over voicechat, b) work well with random strangers, and c) that allowed players to share resources between each other and delegate all the building to one person, if they so wished (something that worked in our first resource allocation system but not our second).
The third, and final system that we use now skips resource drops completely, and instead gives resources directly to players, but allows players to "inject" resources into one another, much like when you inject money into a tower to upgrade it. We're really grateful that players have been so patient with us, and we're positive that we've designed a system now that works in all situations, for all kinds of playstyles and preferences!
GS: Writers Note: Yes, this is my Fanboy question. It's for my kid... and science! On a personal note, I play Sanctum 2 with my 5 year old, and the old resource allocation system worked better when playing with a less experience player. Any chance of making resource allocation configurable?
Armin: Adding new options is a request we get pretty often, but it's a lot of hassle to do so programming-wise. If you only want one player to build stuff, you can always inject all your money into that player at the start of each build phase, and you'll have the same effect as if only one resource crate would have dropped.
GS: Road to Elysion is coming out June 26th. Are you really going to punish us with healing monsters?
Armin: Yes! Waves where both Healers and big enemies such as Heavies or Walker Warriors spawn are such a pain. Luckily, healers are pretty big, and they fly rather high in the air, so you won't have trouble spotting or hitting them. Consider bringing a designated sniper into maps where you have trouble with Healers!
GS: Can you give me any more info about mutation? What sort of mutations are we going to see?
Armin: The Mutator spits balls of goo that double the base HP of the enemies that they hit. And yes, this effect stacks. So as soon as you see Mutators you definately want to prioritize killing them first, cause if they're left unattended, they'll make that small, unthreatening wave of Walker Pups into your worst nightmare.
GS: Does the pet robot fight? Is it upgradable?
Armin: Of course the G2 robot companion fights! As soon as he sees an enemy that wants to hurt you or the core, he'll run up and punch it in the face. We want G2 to be like a Core Guardian's best friend - useful in combat, but also moral, and emotional support. Here's our first (and only) concept art of the G2 companion: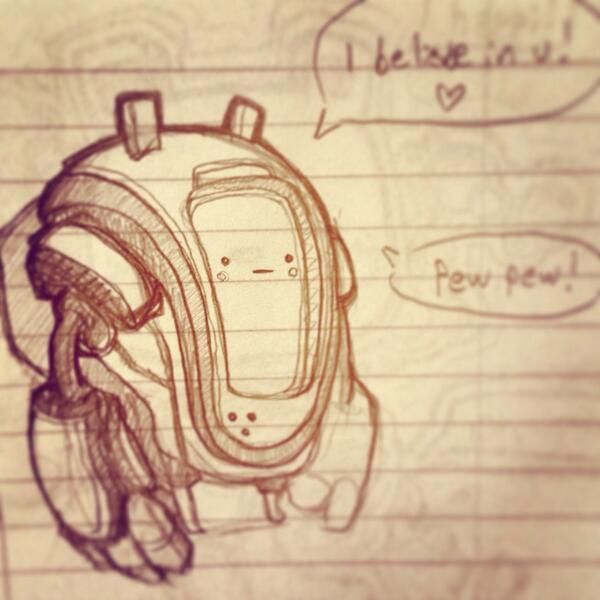 "I Believe In U!"
GS: Has there been any discussion of PS4 and XBox One support? Can you reveal any details?
Armin: I have no idea, we haven't even discussed it at all actually, so I can't say anything at the moment.
GS: What do you feel has been the most rewarding fan response to Sanctum 2 so far?
Armin: It's really hard to pick the most rewarding fan response for Sanctum 2, there are so many things that players do that motivates us! We don't post often on the Steam forums, but we lurk there a lot and it's awesome to see gameplay guides and fan art by people who are really into the Sanctum universe. Oh, and also this video: https://www.youtube.com/watch?v=mup49GVLJlA
Wrapping It Up
Note to readers, the robot looks like it will definitely add some levity, but you are going to need it when the healing and mutator enemies show up? Get ready for an awesome fight. Road to Elysion for Sanctum 2 releases on June 26th. Good luck!
Published Jun. 25th 2013