Riot Games Dustin Beck Talks ESports Growth
The exec explains how League of Legends Season 4 has new elements designed to improve the eSports experience for fans live and via livestream.
Over 85 million people play League of Legends around the globe today, according to Newzoo research. Riot Games designed this game for eSports and has invested millions of dollars into its annual global League of Legends Championship Series. With Season 4 in full swing around the globe, Dustin Beck, vice president of eSports, talks about what's in store for a new-and-improved pro gaming experience in this exclusive interview.
How do the new MOBAs entering the video game space push Riot Games creatively when it comes to enhancing League of Legends?
We're fans of video games at our core, and we play every game we can get our hands on – including new and emerging MOBAs. In fact, Riot gives each Rioter a $300 Play Fund specifically to spend on games to make sure that we're able to buy the games we're excited to play. We take a lot of creative inspiration from the best and brightest out there, but we're ultimately focused on our players and giving them the best experience we can. We're constantly iterating and evolving LoL to reflect the growing need of our player base.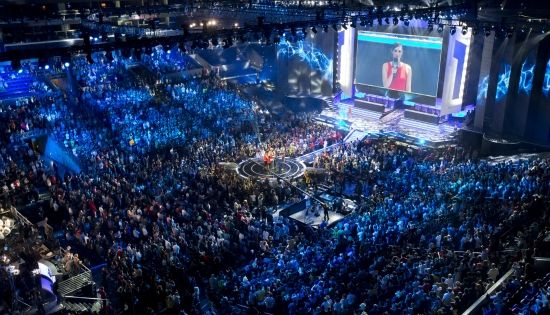 How has fan feedback influenced your new elements for Season 4?
Fan feedback is hugely valuable for us, we are constantly communicating with fans online and offline to constantly iterate and improve our eSports content, whether it's production, league ops or web content, etc.
One of the biggest tweaks we made to the 2014 season was to set up the Challenger League which supports rising teams seeking entry into the North American and European Union LCS. We also responded to feedback from fans who wanted more opportunities to consume global content by tweaking the website to consume global content. This year we've also added to the live experience, broadcasting from custom-designed live studios in California and Cologne and inviting fans to be in the audience.
Can you explain how you work with the pro gamers to make adjustments year to year?
We have a fully dedicated player management team that's in daily contact with our pros. We work closely with them on everything from flights and travel accommodations, to live design feedback on upcoming changes in our game. We also hold regular summits and provide ongoing social media and media training to help support their careers within eSports.
Our pros are one of the most visible elements of our sport so we want to make sure they are comfortable, happy and excited to be competing in the LCS.
What are the challenges of trying to top the Finals at Staples Center last October?
The World Finals last year were an amazing moment. For a basketball fan like myself, hosting a sellout event at the home of Kobe Bryant and rocking the house was a dream come true. Looking to the future, our challenges are the same as they've always been; surpassing player expectations. We've raised the bar, so we know that players will be expecting a spectacular show in 2014 – and we're looking forward to (hopefully) blowing their minds.
Why did you pick Korea as the host country for the 2014 Finals?
Korea is an important character in the life story of both LoL and Riot development – not do we have an awesome and dedicated player base there, it's the spiritual home of eSports. Bringing our world finals there in 2014 felt like a great way to celebrate how far we've come and to honor all of the Korean players who helped make it happen.
How important is it to keep the different territories and countries involved in your big events season to season?
LoL has a global player base, and we want to make sure that esports fans around the world have tailored content, broadcasts and local live events that are meaningful to them whenever we can. It's something we're still working on – we're scaling up according to player demand, and we're looking forward to a future in which major esports tournaments across the globe are a constant reality.
Can you talk about how you're improving the All-Star Game in Europe this year?
Sadly we can't share any more information on the All-Star Game in Europe, but information will be coming out very soon!
Published Mar. 4th 2014