An Evening With Decoy Games And Swimsanity
I sit down with the team behind Swimsanity, in a candid interview.
It's 6PM on Friday, May 2nd. In one hour the guys from Decoy Games will be stopping by my house to show off their game; Swimsanity. I pace back and forth in my living room, trying my best to mentally prepare for this new experience; it's not every day you ask an indie developer to hang out at your personal home. Most of the time interviews take place in development studios, or gaming conventions, not in a ranch-style house in the suburbs of Massachusetts.
I guess I wanted this interview more intimate; more personal. It's far too easy to blur the experiences from one interview to the other in a gaming convention setting.
Who Is Decoy Games?
With no prior professional game development experience, brothers Ahmed and Khalil used their very deep passion for video games and their near limitless imagination to build Team Decoy. For them, it was only natural that their longtime friend, Chris Venne joined them on their quest. Together the three of them officially formed Decoy Games in 2010, and Swimsanity came soon after.
What is Swimsanity?
Swimsanity is a 4 player underwater brawler, and yes it will support local and online multiplayer. You take the role of a Mooba, who is an aquatic fighter equipped with an advanced arsenal of weapons and abilities. Abilities such as; summoning a Shark to devour your enemies, or stun every enemy on-screen, and the ability to teleport.
There are two major gameplay modes in Swimsanity: Alliance, and Defiance.
Alliance has modes such as Survival, where you must work together with your teammates in defeating endless waves of tougher and tougher enemies. There is also Chase mode, where all players must outrun a gigantic sea beast on a single life, all while avoiding obstacles and defeating enemies.
Other Alliance modes include:
Escort the Package

Tower Defense

Defeat The Best
Defiance is for those who enjoy some good old-fashioned PVP. With modes like Last Mooba Standing, where each player has 5 lives, and the last Mooba or Mooba Team standing wins. There is also Damu Rush, which is a capture the flag styled mode where each player must attempt to grab as many Damu Orbs and bring them back to their base as possible. Just be careful while holding the Damu Orb, if you get shot while holding it you will drop it.
The Interview
My dog begins to bark hysterically--like she always does with anyone new entering the house--as Chris, Khalil and Ahmed step through the doorway. At this point I'm still very nervous, unsure of how things will play out, but I'm also excited for this new experience. After a 40 minute demo and explanation of all the modes and features in Swimsanity, we all migrate into the kitchen for some food, and what they told me has inspired me in more ways than one.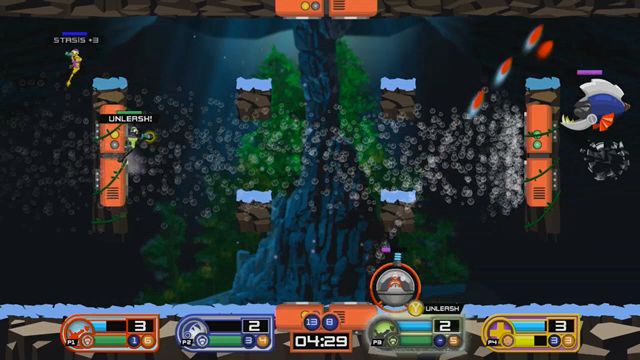 In this candid interview Chris, Khalil and Ahmed tell me how they started Decoy Games, the hardships of creating a game while working 40 hours a week, and the pure passion that flows deep within their veins.
Looking back on the experience I had with Decoy Games, I feel that it was a huge success. I'm looking forward to see what other developers I can get to spend an evening with in a personal and candid space. I wish only the best for Khalil, Ahmed, and Chris in their video game endeavors.
Swimsanity is scheduled for an early 2015 release on PS4, PS3, PS Vita, and Steam. If they meet their stretch goals, then Swimsanity will also be released on Xbox One and Wii U.
A playable demo for the game is now available on the Decoy Games official website.
Published May. 2nd 2014