Chris "Huk" Loranger Believes eSports Is A Lot Harder Than People Think
One of the top StarCraft II players explains why eSports isn't all fun and games in this exclusive interview.
One of the most popular members of Team Evil Genius' StarCraft 2 roster is Chris "Huk" Loranger, who's called by fans everything from "HuK Norris" to "The Incredible HuK," to "HuKeules" and "DreamHuK." The SC2 Protoss player has won two Major League Gaming (MLG) Pro Circuit Championships (Raleigh 2010, Orlando 2011) and DreamHack Summer 2011.
With a dual citizenship (America and Canada), Loranger has amassed a huge global fan base for his variety of play styles (which are hard to pinpoint). The SC2 pro is one of seven players taking part in the Red Bull Training Grounds this weekend at Full Sail University in Orlando. They're competing for $10,000 in prize money and practicing for even bigger tournament prizes for this season. Huk talks about eSports and explains why StarCraft 2 is a lot harder to play than League of Legends in this exclusive interview.
What do you think of the role Red Bull plays today in eSports?
I like it. I'm here and it's really nice compared to other tournaments. This is the best tournament I've been to in a while based of how the players are treated. I wish they had a bigger role. I know they're involved in the StarTale house. I'd like to see them get involved with a Western team or Western players. But I'm happy to be here at Red Bull Training Grounds.
How did you get involved in eSports?
I played StarCraft I and other videogames for a long period of time, but after high school I wasn't sure what to do with my life basically. I was going to join the US Military to help pay for school – and I didn't want to take out loans – one, because I didn't want to take out loans and two, because I didn't really know what I wanted to do anyway. So I was in the process of joining the military, I took the tests, I was on a waiting list, and StarCraft 2 came out. I was playing it for fun, and then I started doing good. I got an offer on a team for like $500 a month, and they offered to fly me out to tournaments for three months. So I said, "What the hell, I'm waiting anyway, I can do this." And since then, I've gotten better and better deals, and now the military is something I obviously decided not to do.
What does it take to be a pro gamer today?
You've got to be hard working. You have to be able to take criticism, and be able to be humble. And then generally, you've got to be pretty dexterous and smart, I guess, in some ways.
What have you sacrificed to get to where you are today?
The biggest sacrifice is time. Most pro gamers are between the ages of 15 and 25, and those are the years kids should be enjoying their lives, going to school, setting up their future careers; and a lot of kids don't do that, they try to be a pro gamer – and a lot fail. And then they're going to wake up one day, be 26, 27, 30 whatever – and they're going to have maybe a high school diploma, no work experience – I mean you can't go in somewhere and say "I was a pro gamer – hire me." So – yeah, it's a sad story for a lot of people. I still sacrifice time – I don't see my family a lot, I don't see my friends a lot back home, but I'm fortunate that I do make good money, and can weigh it out that way.
What advice would you give to aspiring pro gamers who think they're good at StarCraft II?
The biggest thing would be to just be able to look at yourself realistically. A lot of people that try to go pro – don't really try to go pro. They use it as an excuse to take vacation time. You just really have got to look at the plus and minus of both sides and be realistic about whether it's worth it for yourself – for a lot of people it isn't. I'm not going to be the person to tell you, don't follow your dream, because there are people that make good money and love it – but I think it's a lot harder than most people realize.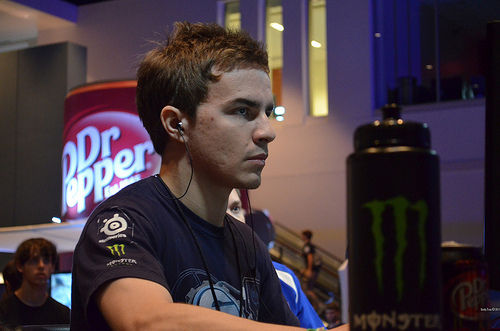 How have you seen opportunities for new gamers in eSports evolve since you began as a pro?
Casters. Man, I wish I could be a caster! Casters in SC2 specifically are bigger stars than the players. It's the only sport where that's the case. Any other eSport or sport, the players are always more popular and make more money, but casters; I think it's cool, and there are a lot of really good casters.
What's the biggest misconception about pro gamers?
Just in general, it's so much harder than people think. It's your job. It's not your hobby. It's really tough sometimes. I've worked real jobs, and I know how hard they are – and I'd rather do this than work some of the tougher jobs I've had. But people underestimate how hard it is.
What's your life as a pro gamer like?
Lots of traveling, lots or practice, lots of being at events, doing sponsorship stuff, meeting fans. Travel is the worst. I just came back from DreamHack and it was 22 hours back. And then a couple of days later I come out here to Orlando, getting in at 5:30am. I play in an important tournament match tonight – you're running long days when you're already exhausted and have been traveling. It's tiring. Other times things are more chill and you get a chance to relax, play games, get better. But sometimes it gets to be a grind.
What's the secret to your success in StarCraft II?
My success was a lot of timing. The time and period when I did really, really good – was the time when Koreans were dominating foreigners. So many things went right for me. My contract with one team was ending – and at the end of the contract I did really good. Imagine you're an NFL Player in a five-year contract – those first four years you do ok, and then that last year you're MVP, you win the Super Bowl – obviously, your next contract is going to be really good. At the time foreigners were losing a lot and Koreans were winning everything. I came along, did well, beat the Koreans consistently, and signed a new team for more money, and from there, grew a fan base.
What are your thoughts on the fan feuds that seem to occur out there between League of Legends and StarCraft II?
It's interesting; on EG (Evil Genius) we have LOL players, they're good guys. They respect our game a lot – they have a lot more fans, they recognize that – but they also recognize that our game is a lot harder. They watch our streams. They could never play at the level we do, and it's a lot tougher in a lot of ways. I play LOL on a semi-regular basis, it's a fun game. If you love a game, support it. It shouldn't be such a big deal.
Published Jul. 26th 2013