Legendary Game Writer Kazushige Nojima hints at Final Fantasy 10-3
Will Square Enix be more profitable if they relinquish attempts at creating new worlds and characters to instead broaden and develop old worlds and familiar faces?
The wonderful man with flowing locks pictured below is called Kazushige Nojima. Nojima is responsible for the majority of the Final Fantasy series stories: Final Fantasy VII, Final Fantasy VIII, Final Fantasy X, Final Fantasy X-2, Final Fantasy VII: Advent Children, Crisis Core: Final Fantasy VII and Final Fantasy XV—and the Kingdom Hearts series.

Nojima penned Aerith's death scene, the duality of Cloud, dreamed up Zanarkand, the Succession of Witches, Ansem's desire to unlock the Kingdom Hearts... They all flowed from his pen. This man is the writer of video games known solely on their reputation for their outstanding and industry leading storylines. Oh, and he also wrote the lyrics for hallmark songs of Final Fantasy such as Liberal Fatali and Hymn of the Fayth. You may not have heard of him, but he's kind of a big deal.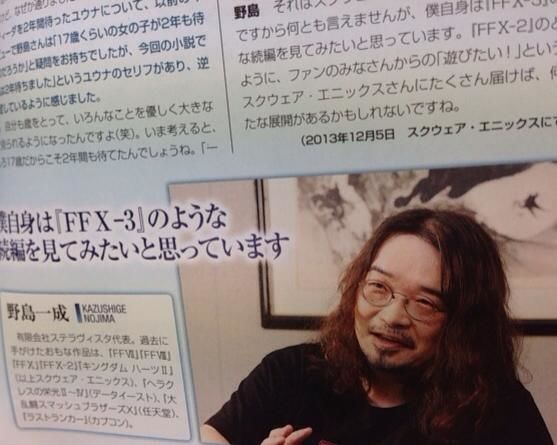 With Final Fantasy X | X-2 HD Remaster released in January overseas in Japan and coming to our shores just a few days ago, hints of a third installment in the X universe come to light. With the X/X-2 HD Remake comes its Ultramania book: focused on artwork, developer interviews, and background information on the fictional worlds and characters in the games. In this book, original X/X-2 writer Nojima details that:

"If demand is delivered, there could be new developments...I, personally, would like to see a sequel such as Final Fantasy X-3"
It should be noted that Nojima left Square Enix in 2003 to found his own freelance writing company, Stellavista Ltd. On the same note, legendary composer Nobuo Uematsu left Square Enix just a year later in 2004 to start his own freelance composing company. While they both have collaborated with Square Enix studios in a freelance capacity after leaving the company, it seems that they have little insight into the company's future plans.

These two giants leaving the company really left Square Enix in a sore spot. Sort of strange that it's only been 10 years and Square Enix is already releasing HD remakes of old games... Could it be that these creative minds were the key to making a classic and wildly successful original Final Fantasy title? If FFX-3 was a thing that happened, could it be done without Nojima or Uematsu? Will Square Enix be more profitable if they relinquish attempts at creating new worlds and characters to instead broaden and develop old worlds and familiar faces?

It seems that according to Nojima, the fans are the key to this equation.
Published Mar. 19th 2014