Square Enix promotes Deus Ex fan-made mod
Square Enix is not only allowing a fan-made creation to be released. They are also promoting it.
Deus Ex is one of Square Enix's biggest games, along with Final Fantasy, Dragon Quest, and Kingdom Hearts. Most fan-made creations that are based on Square Enix games get shut down merely days after launching to the public. But everyone is surprised that a fan-made mod, "Revision", is still playable for Deus Ex.
The developers of "Revision" commented on how they made this happen:
"All of this lead us to feel extremely cautious- we want to ensure that when we release, there are no potential landmines waiting for us. So we approached Square Enix with the intent of making sure that everything we had planned was going to be fine. They've been very helpful and supportive; the processes has gone on longer than anyone anticipated, and we're taking advantage of the time to implement little fixes and bits of polish that were otherwise slated for the 1.1 update.

On the one hand, we would love to get Revision out the door ASAP. On the other, we're committed to making sure that we can release it and maintain it in the best possible way, and with as few stumbles as possible."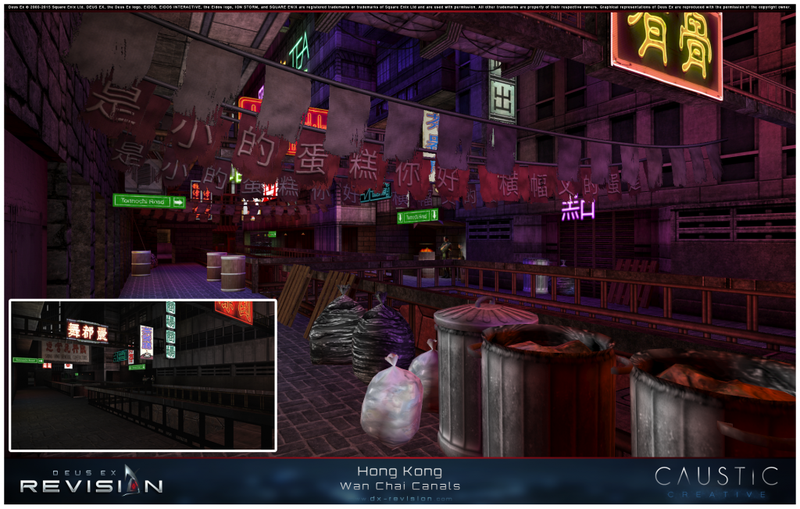 It's a surprise that Square Enix is not only allowing the fan-mod to be published, they are even promoting it. So why is Square Enix being more helpful to this fan-made creation than it has the others in the past? Maybe it's because at Square Enix, they have an 'ask them first policy'. If you want to use their content, you should ask first before creating anything, and maybe, just maybe, Square Enix will end up supporting your venture.
Whatever the reason may be, Revision is a phenomenal mod. It doesn't just update the graphics of the 2000 Deus Ex, but also improves the AI, fixes bugs, and even rebalances the game. This should make the game worth going back to and trying out, since the mod is free on Steam. Deus Ex: Game of the Year Edition is only $6.99, too. So even if you don't have the game, now is a good time to buy. And with Deus Ex: Mankind Divided releasing on February 23, 2016, it would be a nice way to get into the game series.
Source: Kotaku, Macworld, Gamespot, Polygon, Techno Buffalo, Square Enix Term and Service
Published Oct. 17th 2015