Gfinity Exec Paul Kent Explains Why They're Not Focusing On League Of Legends
The former pro gamer and COO of UK eSports company Gfinity discusses the growth of Europe in this exclusive interview.
Gfinity has quickly solidified itself in the European eSports landscape. The company, which focuses on Dota 2, Counter-Strike: Global Offensive, FIFA and StarCraft II, has been able to reach a global audience through livestreaming and www.gfinity.net.
Paul Kent, COO of Gfinity, plans to establish the UK as the go-to destination for pro player talent, new teams looking climb up the ranks will also be given the opportunity to compete for cash prizes and a chance to win the top spot in the various Cups and Championships.
The company's Call of Duty tournaments surpassed the viewing figures of all twelve Sky Movies channels and all nine MTV channels, which prompted the studio to embark on the creation of regular HD online content for 2014. Kent discusses his own pro gaming background and explains why his company is forgoing Riot Games' League of Legends in this exclusive interview.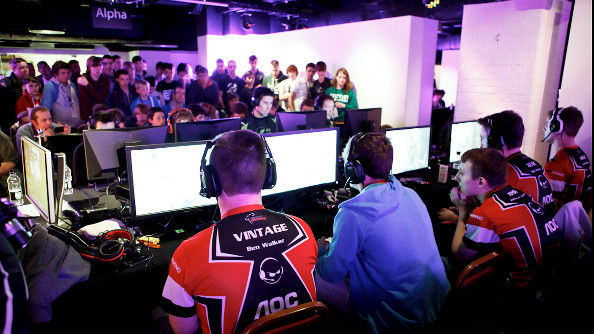 Why did you decide to jump into the eSports arena?
As individuals we have been involved in the eSports arena since 1996, which began with Quakeworld. In the early days we helped lay the roots as players, and over time as tournament organizers for various companies. Now, as we start a journey at the other end of the spectrum, we hope to use those seeds that were planted all those years ago as a base to take eSports to another level.
What's your background in pro gaming?
My first experience with online gaming started in the days of 28.8k modems and NetQuake, which for everyone who has the misfortune to be as old as I am can no doubt remember the horrible Netcode that was the norm in those days. However, with the release of QuakeWorld and (John) Carmack's clever Netcode (along with its pushlatency command), competitive online gaming became a distinct possibility no matter where you lived. I quickly became hooked on QuakeWorld and played for some of the UK's biggest teams of the day (Denial & Four Kings). Over the following years I participated in many games from Painkiller to Counter-Strike. I also took an active part in running tournaments and online leagues for companies such as BarrysWorld and Multiplay. All of these experiences have led me to where I am today.
What opportunities have you seen livestreaming open up?
Livestreaming has changed the face of eSports forever. Before its introduction, watching eSports events either live or recorded took a certain level of game knowledge and really was something of a subculture in what was already a niche community. By removing all the barriers to entry, we now find people who never even knew eSports existed can at a click of a button get access to some of the greatest games, along with color casting and all the features that we have come to accept with mainstream sports. It would have been impossible for us to set the UK eSports viewing records without livestreaming.
How do you go about choosing which games to feature in your tournaments?
Choosing the right games to feature is one of the most difficult and easiest things to do for an eSports organization. The easy bit is the choosing, our philosophy has always been to include games that not only have an eSports pedigree, but also have an active eSports community. The hard part is deciding what games we should not cover. For example, although League of Legends is clearly the largest eSports title on the market at the moment and a game we featured at our first event, we have decided that for the time being we will not feature this at our events.
What are the challenges of trying to compete with the likes of League of Legends these days?
LCS is a the dominant game in eSports now and is quite unique in the way that Riot runs the entire franchise in-house with the players and teams all financed by Riot. This, of course, means that we are certainly not in competition with them as we are not a developer or a publisher. As fans of eSports, we are huge fans of the entire series and just really enjoying watching.
How have you seen eSports grow in Europe?
Exponentially! The growth in the European eSports market is frightening. The most pleasing aspect is that we are seeing different parts of Europe engaging in different eSports titles, from the traditional FPS stronghold in Scandinavia to the console powerhouses of the UK and France.
What are the challenges of dealing with different countries and different languages when it comes to eSports tournaments?
This is a very important topic inside Gfinity, where we have coined the phrase "Glo-calisation." Over the coming weeks and months, our aim is to make sure that no matter where in Europe you are, Gfinity will always feel local to you.
How do you differentiate yourself from ESL and other European leagues?
We feel that with our vast experience and knowledge of eSports that has been built up since before it was called eSports, we know what works and what doesn't work. Where we feel we are different from others is that we put the players first, second and third. No matter if you are the greatest player or the worst player, at Gfinity you are equally important to us and we make sure that the players know that. So far, it appears to be working as some of the largest teams and players in the world have stated that our first two events were the best events they have ever attended.
What do you feel differentiates the European eSports scene from that in North America and Asia?
The Asian market is almost a decade further down the line in terms of eSports development, which is down to the Netcafe social system. Millions of people have grown up playing eSports titles in Netcafes, so it has now become part of their way of life. This is similar to the Scandinavian market in Europe. In North America our partner company, MLG, is a shining beacon that is now delivering viewing figures that many a mainstream sports would love to have. And although Europe is not quite at the same level, we are catching up very quickly.
We're seeing eSports Arenas opening in the U.S. this year. What do you see in Europe when it comes to dedicated eSports spaces?
At Gfinity we already have the UK's only dedicated eSports studio and arena. Both Dreamhack in Sweden and ESL and Riot in Germany have similar offerings, so we are already seeing huge growth in this area and this is very important step forward on the road to mainstream accessibility.
What opportunities has television broadcasts opened up for Gfinity?
We have recently started putting our shows on TV with our partners Ginx.tv. Without a doubt, the most exciting aspect of this is we are now able to reach an entire new audience. Our existing audience now has a new way to interact with our product, be that on the big screen in the living room or as a recorded show before they go to bed. Giving our audience as many ways to access our content is very important to us.
Published Mar. 16th 2014