A Tale of Unavoidably Delayed Internet Spaceships
The Swedish documentarians behind the crowd-funded feature-length film of EVE Online's Fanfest announce delays.
The crowd-funded documentary of EVE Online, A Tale of Internet Spaceships, has been delayed.
Originally planned for release in Autumn this year, the feature-length expose of the community behind CCP Games' unfathomable and sometimes controversial sci-fi MMO has proven to be a mammoth undertaking.
Following a partially successful IndieGoGo campaign which saw the project raise half the funding originally budgeted - $3,018 of the target $6,000 – the Swedish media students behind the ambitious project re-adjusted their plans and boldly pressed on, travelling to Iceland to investigate EVE Fanfest as fans and developers gathered to celebrate 10 years of internet spaceship shenanigans.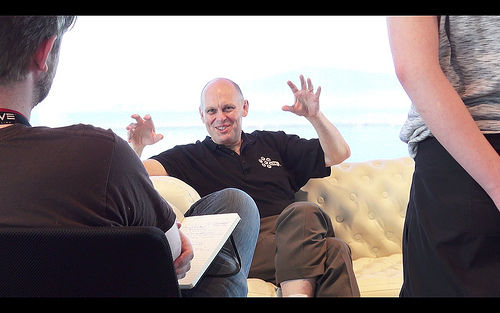 They successfully captured hours of footage and gathered dozens of interviews (inc. CEO Hilmar Veigar Petursson above and senior player Robert 'Trebor Daehdoow' Woodhead, right) with many of EVE's leading characters and then returned home to tell their story. It is a story that takes some telling. Producer Petter Mårtensson, himself a long-time EVE player, knows as well as any that anything EVE-related takes time. In a blog post published yesterday, he said:
"We originally said that we were aiming to release A Tale of Internet Spaceships this fall. The way things look right now, that won't be a possibility. Instead we are aiming to have it in your hands early 2014 – absolutely before Fanfest next year. We're very sorry for the delay, but we're convinced it is for the best and that you will find that the final film will turn out much better for it."
A Chat with the Producer
I caught up with Petter earlier today to get a little more info on what was going on. He clarified to me that A Tale of Internet Spaceships wasn't part of the team's ongoing media coursework, "We met through school, but this has nothing to do with our studies" he explained.
So all time spent on the project has to be worked in around other responsibilities, academic or otherwise and with both Elin Thedin and Petter going overseas on other projects, the team is spread very thin. That said, Petter assured me that distance will not be an impedance to the project and the team will be in constant communications as they continue to work together from across the globe.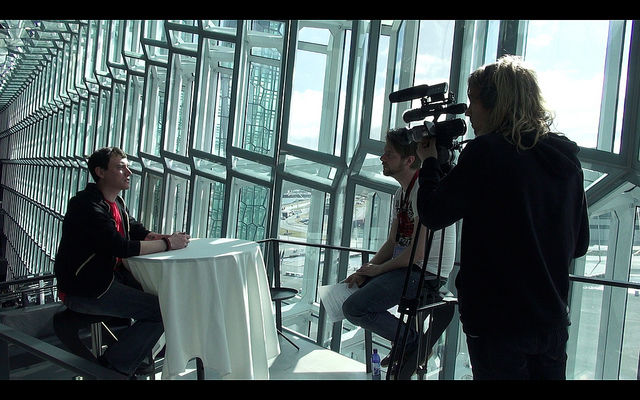 Along with their statement, a small collection of footage screenshots was published (inc. Chribba being interviewed, right) and I asked if there was any possibility that we might get to see more material prior to the full release.
"A teaser is on the table, yes. As I said, Philip [Raivander] will still be around and busy with editing... I'll say no more, I don't want to give any time frames. But teaser trailer and a proper trailer is of course something we plan to do."
I enquired if there had been much feedback from backers with regard to the delay.
"Some, not much," Petter said, "Seems like people are quite understanding, which we of course were worried they wouldn't be. I think people in general understand that this is for the good of the documentary. It will be much better because of it. If we rushed it, nobody would end up happy."
Despite the delays, it is encouraging that they still feel upbeat and confident that they can deliver a solid film. I was curious to know exactly what kind of footage they'd obtained.
Read on for some insight...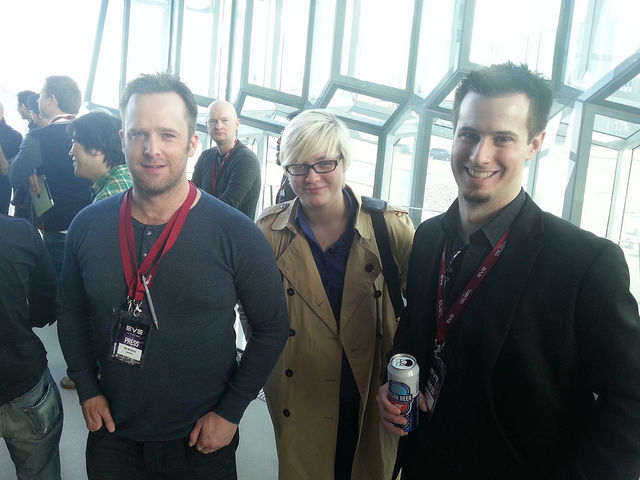 The exhausted new parent, the professional journalist and the seasoned alcoholic (in no particular order).
Published Aug. 13th 2013