By now we should all know about Rule 34: if something exists, somebody has found a way to turn it into porn. Just take a look at the shockingly well done Biocock Intimate or the horde of nude mods for every single video game ever made.
Amidst the sea of Final Fantasy dojin and Mega Man bosses with tentacles turned into love machines, there are plenty of more "tasteful" pieces that either offer up a bit of fan service or even go in violently unexpected directions for normally peaceful game icons.
Sites like Deviant Art are filled to the brim with insanely talented artists putting their own spin on classic characters, but there's also more than a few unknown and independent artists or even video creators who have some amazing work you simply have to see.
Before we dive into some of the most interesting NSFW reimaginings of game characters, I just want to make a quick note here: I made a serious effort to find all the artists, but sadly many of them aren't listed and there were no readily available references to the original source. If you know who made them, be sure to let us know so we can give proper credit!
---
Fallout 4
There are a ridiculous number of nude mods to make characters in both Fallout 3 and Fallout 4 shed their clothing and show off some nipple, but frankly the blocky polygonal art style isn't all that sexy.
Thankfully, there's a stable of artists more than happy to put a risque twist on the various Fallout game mechanics, like this rather different interpretation of VATS. Where are you going to take aim at first I wonder?
The Fallout series itself is no stranger to sex, with the second game even having a Kamasutra perk that provided different dialog options if you engaged in intercourse, as well as being notable for the first instance of a video game ever having a same-sex marriage wedding scene.
---
Fallout / My Little Pony Crossover
"Now wait a minute," I hear you screaming in your head while seeing the image above, "I thought this was all going to be about boobs and butts and stuff!"
Hold that thought for a moment and let me counter with a differing opinion: "NSFW" doesn't always mean "boobies." Sometimes its just cute characters doing very adult things. Like a Fallout rendition of a My Little Pony character cursing like a sailor before being blown to bits by a mine, for instance.
This particular image comes from a full crossover online comic series by Kkat spanning 45 chapters. You can read the whole thing right here.
---
Mega Man
Woah, that is some serious beefcake Mega Man action there. I mean, I always sort of assumed he had to be pretty built under that suit with all the running and wall jumping he's always doing, but good lord.
I'm sure with a little searching you can find the uncensored version of the image, and yes, there's a whole lot of porn using both the series' title character and various robotic enemies. For the Yaoi fans, boy love abounds in the Mega Man universe.
---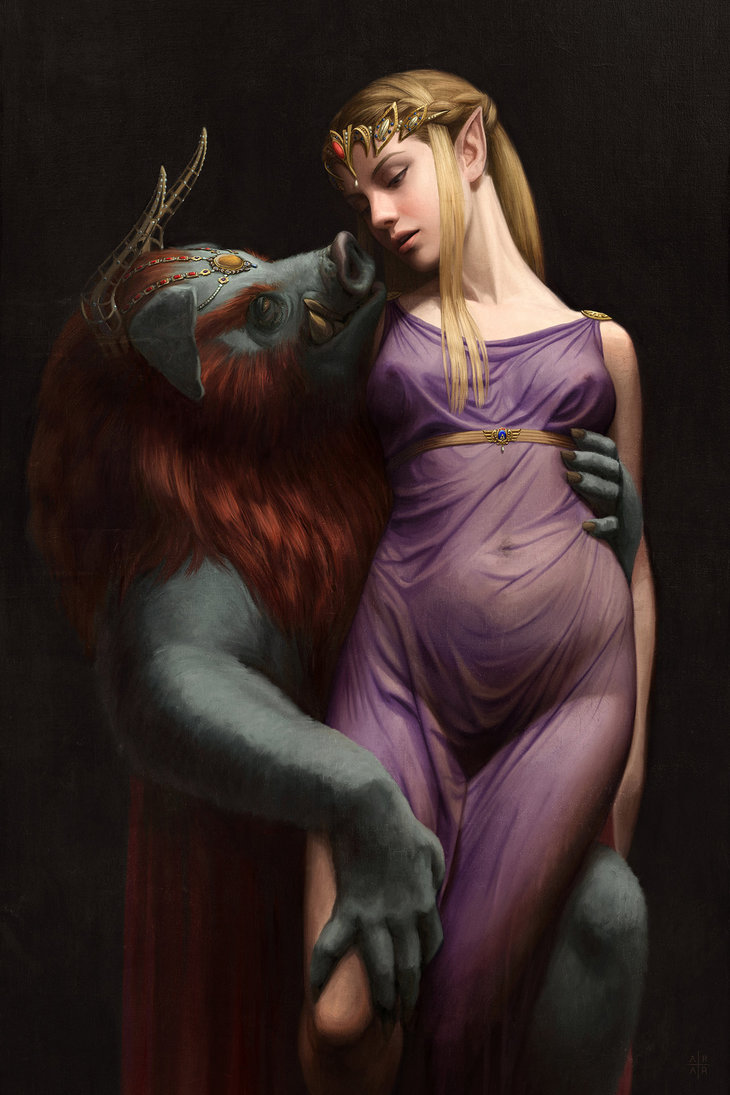 Legend Of Zelda
Artist Astor Alexander has two truly amazing different series, one recreating classic works of art with game characters and another (see the next slide) reimagining games as dime store detective novels and comic book covers.
My jaw sort of dropped when I first saw this line of images he created, as its clear a whole lot of work went into these. This one in particular is both somehow sexy and more than a little disturbing. I'll never think of princess Zelda or Ganondorf the same way again.
---
The Witcher
Another one by the immensely talented Astor Alexander, in this series he converts people from various game universes into a seriously noir mode.
I dig how he takes them all a sexy or gruesome direction, giving you an entirely different version of these well-known characters (you don't often think of Mario and Luigi as hard boiled detectives willing to get blood on their hands).
Granted, the Witcher series already had plenty of boobs, but I like that this rendition clearly hints at both sex and danger without actually showing much of either.
---
Game Of Thrones Tattoos
Sure, Ramsay Snow/Bolton likes to flay people alive, cut off genitals, and feed babies to rabid dogs, but admit it: you still kinda want to get into his pants, don't you? Add some tats in the max and both the ink and screamo crowds are going to go nuts.
That's exactly what Hilary Heffron did with an entire series taking Game Of Thrones characters and inking them up with hilarious and very on-point tats.
The bad buy persona on display here sort of makes me wish we could get a Game Of Thrones / Sons Of Anarchy crossover, maybe by Telltale Games? Granted their recent rendition of GoT wasn't perfect, but the first few episodes were plenty of fun to play.
---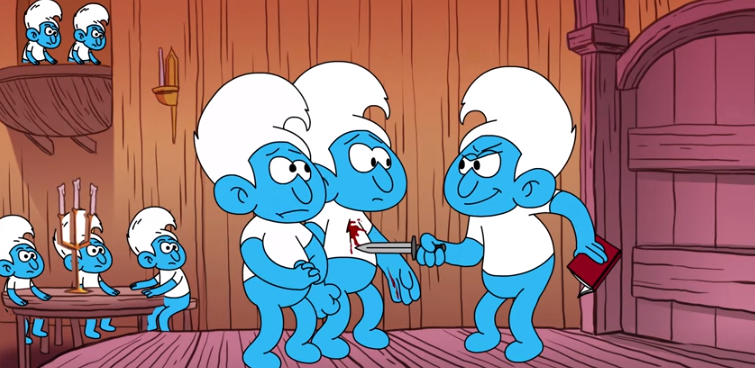 Smurfs As Game Of Thrones
We already covered how NSFW doesn't have to mean nude (OK, there are some smurfs getting it on in the video, so sorry for ruining your eyes forever on that front) and sometimes it just means a radically different interpretation of something normally very innocent.
What would happen if the Smurfs schemed, plotted, and rebelled like the lords of Westeros? We'd have a reddish blue wedding, just as much in-breeding, and some horrifiying hilarity, as show in this clip by Animation Domination Hi Def.
Before anybody screams that we've strayed too far from gaming – just remember there are in fact both Game Of Thrones and Smurfs video games. Lots of 'em in fact.
---
Princess Peach
Well hello there Ms. Peach... I don't see any reason why she couldn't do a Playboy centerfold if she wanted to.
Despite all his smashing castles and murdering hordes of innocent goombas to re-kidnap her, Mario's got no claim on what the pretty princess does with her body.
Unsurprisingly, there's loads of Peach hentai across the net that make this image look decidedly tame, and they all use a pretty stunning array of art styles. While we probably won't ever cover it here, somebody should really do a dissertation on the varying art styles just of nude Super Mario characters and the serious ingenuity on display by the artists.
---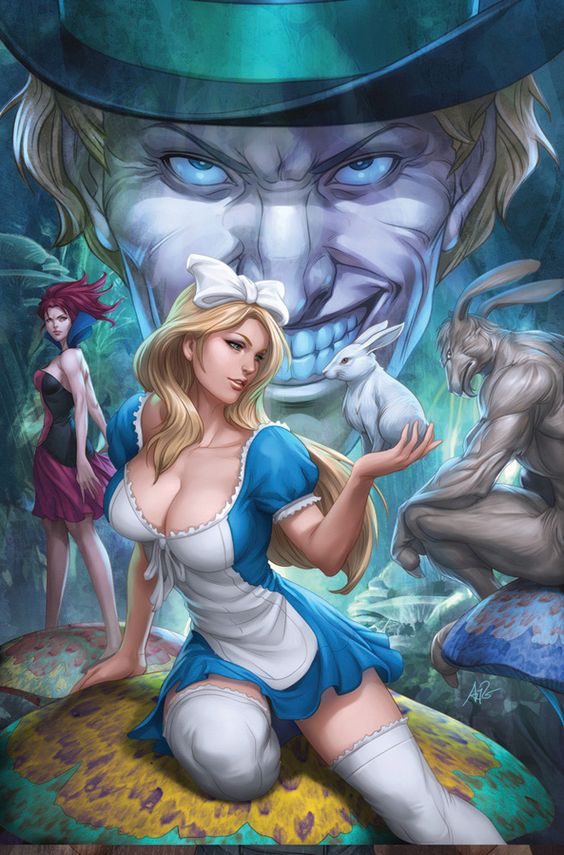 Alice In Wonderland
This beautiful cover comes from a Zenescope comic series that morphs classic children tales into much more adult versions. I'm partial to this particular image that lets you know there will be a much different twist than you'd typically expect from Alice and the Mad Hatter.
'Course, anyone who has ever played Alice: Madness Returns has already received a pretty damn NSFW interpretation of that story, just in an extremely disturbing and rapey way.
---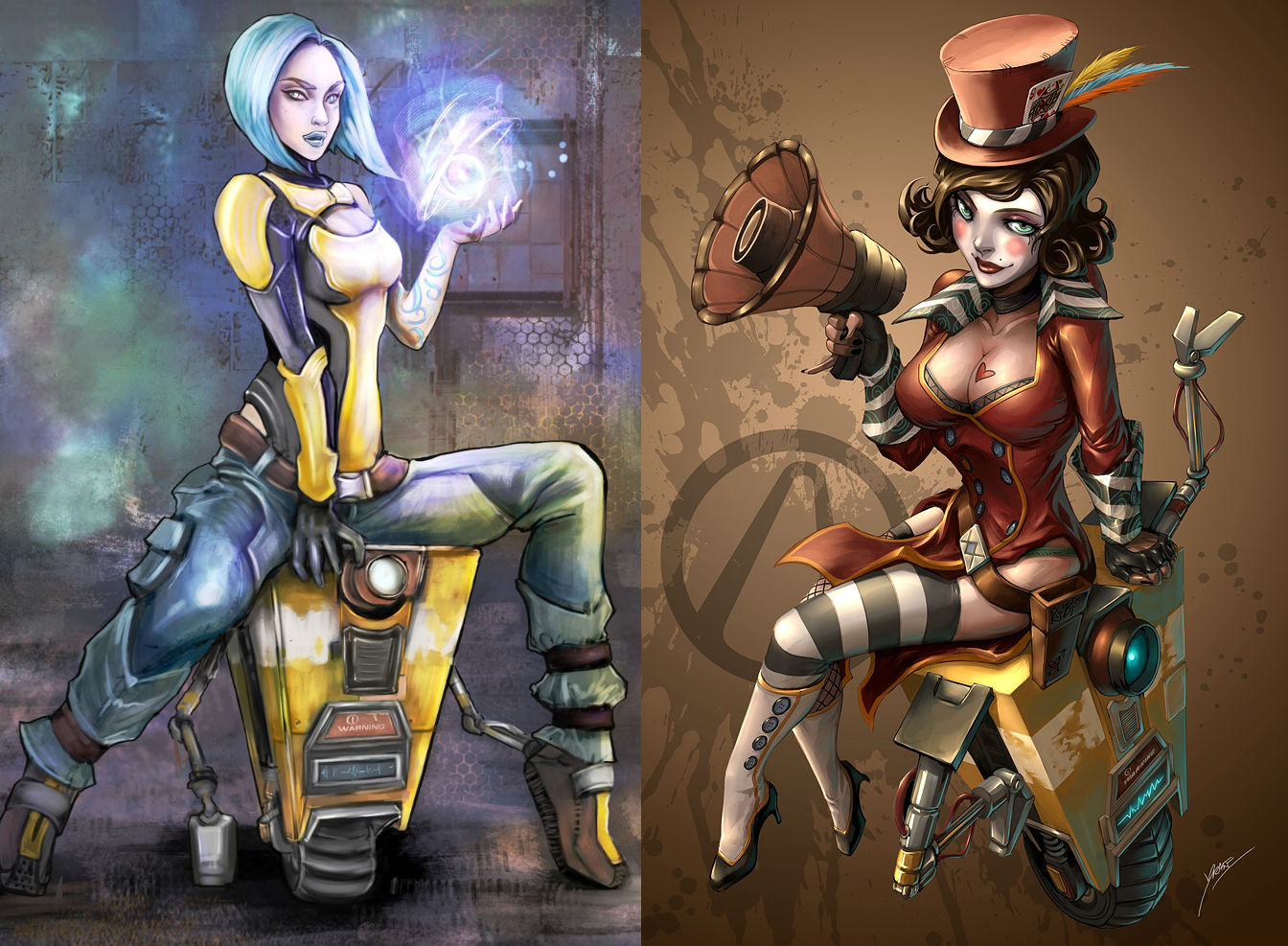 Borderlands Pinups
With the already-sexy Moxxi and characters like the Siren on display, it was a no-brainer that there would be fan art by the boat load for Borderlands characters.
Skipping all the fully nude stuff (and the perhaps line-crossing art with the underage Tiny Tina...) one recurring theme has appeared in artist recreations: pinups!
These two images above are actually from two completely different artists tackling the same subject matter. Moxxi on the right was created by Quirkilicous, while Maya on the left was put together by Milish.
I guess my only question here is why is Claptrap getting all the action in the pinups? Does he have a vibrate function or something?
---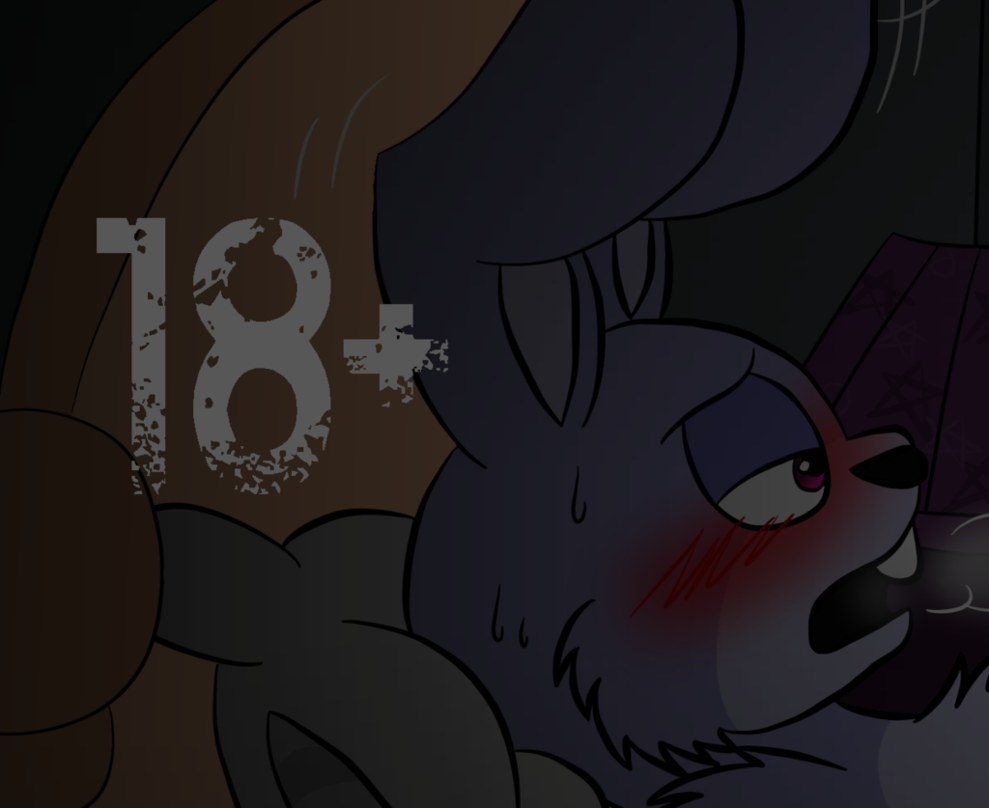 Five Nights At Freddys
Fair warning here: you can't ever un-see what you will see if you decide to take a look at the complete and uncropped version of the image above.
Remember good old Rule 34? It has no exceptions. None. Not a single one. Even killer animatronic stuffed animals from a kid's pizza parlor have been turned into sex objects by depraved gamers. Way to go us!
You can delve even deeper into this bizarre sub-culture of a sub-culture, finding such gems as yaio / animatronic furry crossover fan fiction. I never thought I'd type that sentence, but here we are.
---
Saint's Row
The ever-amazing Saint's Row series is always trying to find new ways to up the ante and be even more ridiculous than anything seen in the past. From becoming President by falling into the White House in Saints Row 4 to the totally unexpected, Disney-style musical number in Gat Out Of Hell, you never know what to expect from this bonkers game series.
One thing you can reliably expect to see though are nude characters. Some of them are mercifully blurred out (Oleg running wildly through the streets of Steelport with his member hanging free comes to mind...) while others are not.
Predictably, there's been a good deal of fan art for these gangster characters, especially those of the female persuasion, like the ultra-smart and beautiful Kinzie Kensington. This particular pinup appears to just be a reshaded version of another image with the Saint's logo tattooed on, but hot damn if it doesn't put Kinzie in a more erotic light.
---
The Wolf Among Us
Furry and gamer sub-culture frequently collide, so it shouldn't be too much of a shock to learn there's a rabid fan base all about Bigby Wolf from Telltale's rendition of the Fables comic series.
This one's easily the most tame of all you can find with a simple Google search, transporting Bigby into a sharp anime style while not losing that rugged quality that drives the wolf-lovers wild.
---
It's clear there's an endless number of ways to interpret video game characters, from ultra-detailed to big-eyed anime to crossing over with other series entirely (remember that time we turned all the iconic characters into dog versions?), and there's no reason they can't be done up in a more racy format.
All the changes to style of course bring up questions of gender bending (and the never ending flame war between opposing factions on whether or not Link can be a female character), but we'll leave that debate for another article.
For now, let us know what you thought of these 13 highly entertaining and super NSFW recreations, and be sure to offer up some suggestions on images we missed that should have made the list!