Candy Crush Promo: Get $3 Without Paying Facebook
How to use Facebook's Promotion without paying a dime.
Today (as far as I know), Candy Crush is running a promotion--get $3 in FB credits towards Candy Crush when you verify your credit card or PayPal account. Here are some tips to getting your promo reward without paying Facebook, and making sure they don't bill you in the future.
Do Not Use Your Credit Card.
Sign up for PayPal--it's free and only takes a few minutes. I would never give Facebook my credit card information, ever. Especially when games like this have a notorious habit of offering you constant temptation to buy. Not only that, this method will ensure that you do not receive hidden recurring charges, which these sites are infamous for.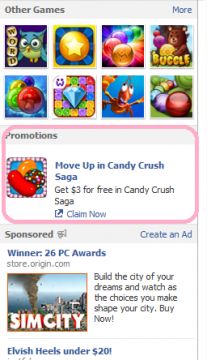 Once you've signed up with PayPal, go ahead and verify your account. If you plan to use it further, attach your bank account, whatever. I don't believe this step is necessary for this purpose, though. Let me know if you find out differently--I use PayPal regularly because it keeps my credit card number safe and private.
Cancel Facebook Authorization through PayPal
Once you've verified the account, go ahead and accept Facebook's TOS and complete the transaction. There will be some nonsense about how they won't bill you, etc. I didn't believe that for a split second, and once you complete this transaction, you're authorizing charges from Facebook. We need to change this.
Firstly, log in to PayPal.

Once you're in, go to My PayPal. This will take you to your home screen, which may look a little different on your account or even if you're using a different browser. Just look for the same general wording and/or buttons.

Secondly, hover over My Profile, and click My Money.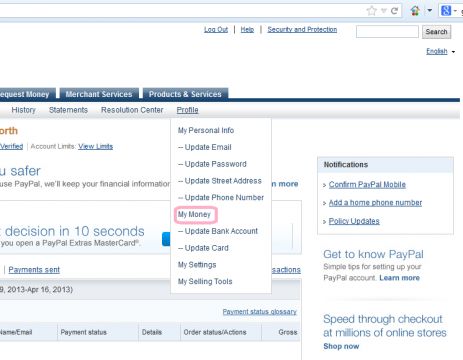 Once you're on your home page, go to the far right of the toolbar at the top. Hovering over Profile should give you these options; you're going to click My Money, which will take you through the settings you have in reference to your bank account, credit card, etc. If you haven't attached any accounts to your PayPal yet, you may do so through this option if you want to set that up.
Third, look down to My Pre-approved Payments

There should be an option to update. This is where you save merchants who are authorized to bill you. I'm not sure if this means they can automatically bill your account, but we don't want to take that chance. Thus, we're going to click Update and remove Facebook's authorization. This will still give you your credit, so don't worry.
Fourth, click on Facebook Payments, Inc.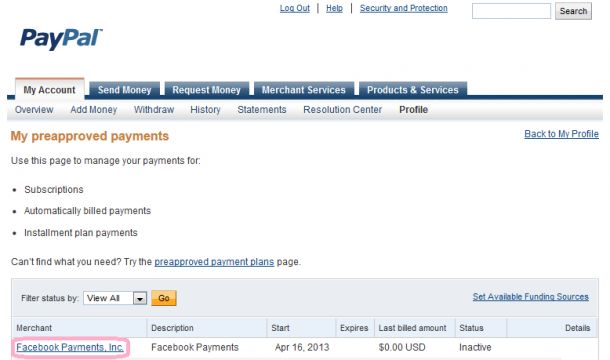 There they are, sitting in your PayPal, probably waiting for you to forget that you made this transaction with them so they can bill you (no, I'm not bitter against companies like this at all! What makes you think that?). Go ahead and click their name in the list that pops up.
Lastly, click Cancel.

Once you have clicked Cancel on the screen that follows step four, you should see a screen like this. It should specifically say CANCEL on it. If it does not, I would get in touch with PayPal and let them know that you want to cancel Facebook's pre-approved status. Cancelling Facebook's authorization ensures that they can't do anything shady with your account through a promo that gives you free things that secretly aren't free.
Voila! You should have $3 in FB credits on your account, which you can then use in Candy Crush (mine bought my ticket from level 21 and on.) My personal advice? Use this credit for your tickets!
Published Apr. 16th 2013