Destiny Writer Quits Bungie to Work On Telltale's Game of Thrones
The game write behind Destiny, Joshua Rubin, has decided to leave Bungie to work on the new Game of Thrones Telltale series.
Game writer, Joshua Rubin, is saying goodbye to Bungie, where he has spent his last 2 years writing the story behind their upcoming and highly anticipated sci-fi shooter, Destiny. He's now looking forward to becoming a member of Telltale Games, where he will be getting sucked into the story behind their new Game of Thrones episodic series.
"In the end, Bungie makes games about shooting aliens in the head. And while there's a true art to 'writing between the bullets' -- as Mr. Staten once said -- I couldn't turn down an offer from Telltale, to create games that are entirely about story."

-Joshua Rubin
Joshua has built up an impressive portfolio so far, working with companies such as Capcom, Visceral, and Bungie as well as others, to help create great game stories that we know today. One such game which he is responsible for are some of the best parts of Assassin's Creed 2.
Destiny will be released September 9th, but don't worry, the game's writing phase should be well over-and-done-with, so his departure should not affect the game in any way.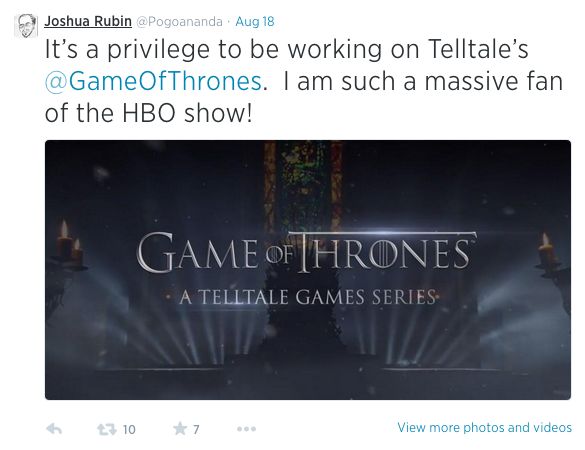 It's easy to see why Joshua is so enthusiastic about his new job with Telltale Games, especially within his job role. Telltale have gained massive popularity and a loyal fan-base for their story-driven games over the last couple of years. It all started with the release of The Walking Dead series, giving a fresh perspective on what gaming entails to their players, introducing them to strong character developments which the user plays a huge part in, deciding their actions for them. This gameplay ultimately creates strong connections for the in-game characters.
Since then, Telltale Games have been on a roll with The Wolf Among Us us being a huge success, as well as fans everywhere being excited for the releases of Tales from the Borderlands and, of course, Game of Thrones.
The Game of Thrones series is expected to be available by the end of 2014 or early 2015.
Published Aug. 19th 2014