GuildPortal shutting down, Gamer Launch offers to take in refugee guilds
GuildPortal is going offline forever. But Gamer Launch is stepping in to offer guilds a new home, 3 months free.
Gamers who logged into GuildPortal this morning got a nasty surprise. A short notice on the site's homepage informed them that GuildPortal would be going offline permanently by the end of the month. (You can see the notice in the image above.)
This is a pretty devastating blow to the gamers and guilds who spent time building their communities through the site since 2001. They'd already lived through one scare after GuildPortal forgot to renew its domain last month. It looks like things are for real this time around. In the forums, users of the site offered to help in whatever way they could to keep GuildPortal up and running. But there has been next to no response from staff on the site or on social media.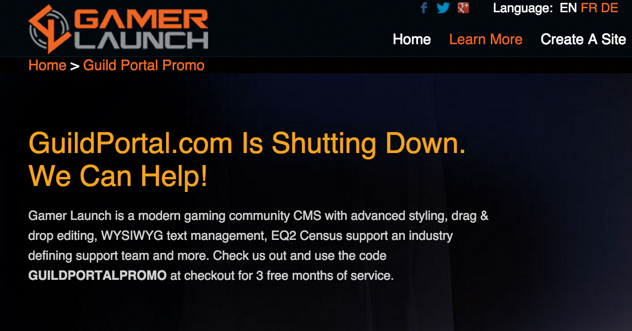 If your guild has been affected by the Guild Portal shutdown, Gamer Launch wants to help you out.
Our sister site, Gamer Launch, is a modern guild hosting platform and gaming community CMS that features advanced styling, drag & drop editing, WYSIWYG text management, EQ2 Census support, an industry defining support team, and more.
We hate to see so many guilds displaced, so we're offering a discount to guilds who switch to Gamer Launch.
Use the code GUILDPORTALPROMO at checkout for 3 free months of service.
Head on over to the Gamer Launch site to see all the great features it has to offer and claim your discount code now! We hope that soon you'll be calling Gamer Launch home.
Published Sep. 8th 2017