New Expansion Announced for Firefly: The Game
Player interaction and more ships come to Firefly in March.
I've heard a few complaints about the excellent game for Firefly. Mostly, a lack of player interactivity, characters and elements missing from the show, and the inability to play five players without the Artful Dodger promo ship. While we can expect the Breaking Atmo' expansion to take care of more supply cards that we felt were missing, it looks like this new expansion will directly address the other concerns.
Gale Force Nine has announced a new full-size expansion to be release for the Firefly Board game in March, called Pirates and Bounty Hunters. The preview picture and a small quote from Firefly is all we have to know what's in the expansion so far. Firefly promises player interaction will increase with Piracy and Bounty jobs. Bounty cards will be part of a completely new deck. It appears that they directly correlate with characters that had the wanted symbol on their card in the original game. River, Zoe, and Simon all show their faces in the preview pic.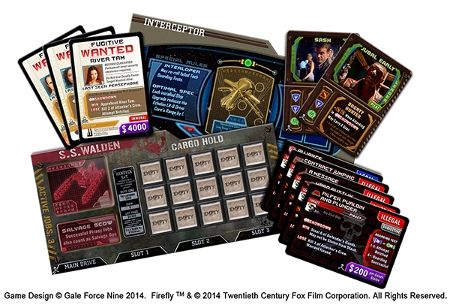 It looks like the Piracy jobs will mix in to the regular Contact decks. They have a distinct "pirate flag" background that separates them from the normal job colors. Piracy jobs promise to let players steal cargo from other players. Bounties will likely be handed out by Harken at the Alliance Cruiser. Right now, we can only see Jubal Early as a Bounty Hunter. If there aren't more Bounty Hunters added to the game, there might be some players fighting over the right to play Jubal.
But wait! There's more!
The expansion will add two more ships to the game. The SS Walden and it's captain from on of the best episodes, Out of Gas. It looks like his ship is built for Piracy with fifteen cargo spaces! There probably isn't much room for crew on the Walden. You may not have to pair it's captain "Sash" with the ship, but he has two tech and one Negotiate skill. Tech will likely be a significant skill for taking things that aren't nailed down. Most of the interceptor card is hidden, but Jubal Early's ship is likely built just for capture. It appears to have four measly cargo spaces, but a few special rules that can't be made out even with a spyglass.
The addition of two more player ships should make this a five or six player game. With the Artful Dodger, you could have even player cards to run seven players. It might get a little long of a game that way.
The expansion will release in March with a price tag of $29.99. View the announcement here.
Published May. 26th 2015