Minecraft 360 Edition Giving Us "Rare" Skin Pack For Free
Rare Ltd gives us some freebies to celebrate Minecraft 360 Editions birthday.
Happy "Rare" birthday Minecraft 360 Edition! Yes, true believers, on May 9, 2012, Minecraft was released for the Xbox 360 and in the two short years since then Minecraft has enjoyed enormous success.
Minecraft was originally released on PC in alpha form on May 17th, 2009 and then got its full release on November 18th, 2011. The 360 Edition released two years ago and became the best-selling Xbox Live Arcade game in March of 2013. At this time, Minecraft 360 Edition has surpassed 12 million copies. Let us not forget about our friends at Sony either. On December 17th, 2013 the Playstation 3 released its own Minecraft version and has since sold over one million copies.
This year, to celebrate their second birthday, Rare--the company responsible for such stellar titles like Goldeneye for Nintendo 64 and Viva Pinata for Xbox 360--has released a new skin pack to download for free.
Titled the "2nd Birthday Skin Pack," it includes a mix of new skins along with some re-releases of older ones. An example of this is Pretztail. This character now sports new, pointy ears and a fuzzy tail (or at least Minecraft's version of fluffy).
The skin pack contains the following:
From the

Banjo-Kazooie series: Gruntilda, Kazooie and Banjo-Kazooie

From

Viva Pinata: Horstachio, Pretztail, and Fudgehog

From the

Conker series: Conker (Bad Fur Day) and Conker (Live & Reloaded)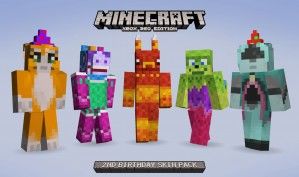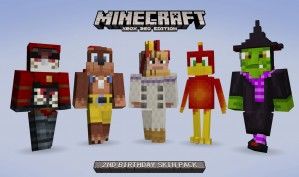 Also put back up for a limited time is the "1st Birthday Skin Pack," which contains a total of 23 skins including Sheep In A Suit, Party Cow and Ender Dragon.
This pack will only be available from May 9th through May 18th, so if you have not grabbed it yet go fetch it now before it's gone again.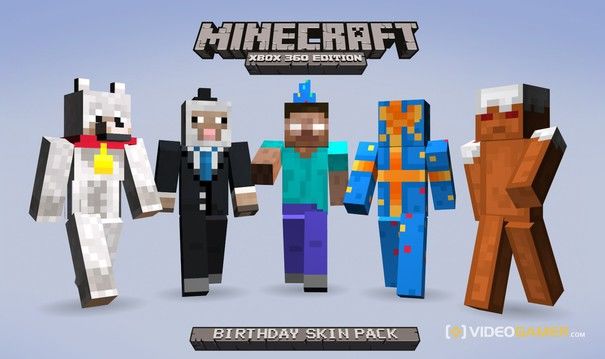 I, for one, was a late adopter into the wonderful game that is Minecraft. I did not get into it until about a year after its release on Xbox 360, and that was after watching my fiancée's youngest son play it nonstop for a month.
I kept seeing him play it and was like "Bah, what the hell, I'll try it." Shortly after starting in the game's creative mode, I was the one who could not put it down for a month.
As the sales numbers suggest, this is a wonderful piece of software where you can do anything that you can envision and then some, even with the limited tools at your disposal. I even got the idea to challenge myself with building a 1:1 scale replica of the Normandy SR2 from Mass Effect 2 & 3, and I have to say that I impressed myself with what I accomplished. In the grand scheme of what I have seen other people build, it's not much. A few screen shots of what I have built:
Published May. 9th 2014