Pixelberry Studios Takes On Cyber-Bullying and Suicide
Pixelberry Studios deal with cyber-bullying and suicide in their game High School Story.
Pixelberry Studios, a team of former EA developers, have created High School Story, a high school-themed game available to play on iOS and Android devices.
The game is designed for the player to create the school of their dreams with all their friends.
Throw parties to unlock over 30 characters
Go on dates and play matchmaker
Recruit jocks, nerds, cheerleaders and many more classmates to unlock their stories
Plan a surprise birthday party
Star in a fashion show
Go on a wild spring break beach trip and other adventures
Battle a rival in an evolving story, including a showdown at the Homecoming Game, a Science Fair, a prank war, and more
Make new friends and play their stories
Customize your look and choose your clique
Play free with tons of free updates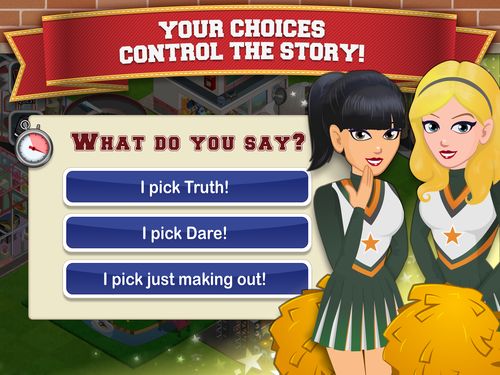 Sounds like a typical high school teenager's life doesn't it?
In recent months the team at Pixelberry Studios decided to use the innate drama of high school to talk about issues affecting young people. This resulted in the addition of a cyber-bullying-themed quest that aims to help those who are a victim to it in real life.
"I was reading an article about a girl in Florida who committed suicide because she was cyber-bullied," says Oliver Miao, CEO of Pixelberry Studios.
The story really stuck with him since he was also bullied in school and the team realized that their game High School Story was perfect for addressing this issue.
"It's a digital game played on a phone, we had a lot of reach with teenagers, and we thought that this would be a way in which we could make a difference," says Miao.
While working on writing for this new quest, the team received a message from a High School Story player via the in-game support system which is primarily used for reporting technical issues.
"They told us they were planning to kill themselves," says Oliver Miao. "We were really shocked. It was also something we realized we had no expertise in."
The team at Pixelberry Studios knew they had to help this player who had reached out to them, so they sought advice from a suicide prevention hotline. This experience became the foundation for the writing of the cyber-bullying quest and resulted with Pixelberry teaming up with Cybersmile, a cyber-bullying support charity.
"We were pushing them to get professional help, but we also wanted them to know that we cared about them. After a week of messaging back and forth, the player decided to seek professional help. She said it was because of our game that she was still there," Miao said. "It's a scary thing to acknowledge, and I think the player felt more comfortable reaching out to us."
With the rise of social media use, whether on Facebook, Twitter, online gaming -- bullying is becoming a real issue that's now venturing outside of the high school hallways and cafeteria. As a result, suicide has become more prevalent among teens.
Many teens find it hard to talk to their parents and teachers, fearing they'll be misunderstood. This is a major reason why stories of young people finding help in video games are becoming more and more common.
Always remember you're not alone and never be afraid to reach out for help.
The Cybersmile Foundation -- www.cybersmile.org
(UK) 0207 241 6472
(Outside UK) +44 207 241 6472
(USA) +1 (650) 617-3474
The Suicide Prevention Hotline -- www.suicidepreventionlifeline.org
(800) 273-TALK (8255); available 24 hours, 7 days a week
Published Mar. 5th 2014