Why I Cannot Wait for Titanfall
One of the many next-gen games that I am excited for, and the reasons that you should be excited if you are a first-person shooter fan.
There are several games coming out for the next-gen consoles that gamers should be excited for, and one of those games is Titanfall.
Titanfall is a first-person shooter developed by Respawn Entertainment and is the first title being released by the American company. The company was founded by Jason West and Vince Zampella who were responsible for the Call of Duty franchise at Infinity Ward until 2010.
West and Zampella were fired by Activision due to "breaches of contract and insubordination" and founded Respawn Entertainment shortly thereafter. The Respawn Entertainment team is made largely of former Infinity Ward staff, so fans of the earlier Call of Duty games have a reason to be excited.
Titanfall was revealed at E3 2013 and took over 60 E3 Awards such as Best of Show, Best Original Game, and Best Multiplayer Game. More information about Titanfall was revealed at PAX 13 and the game looks to be an exciting take on the FPS genre.
Where other first-person shooters limit the player to the basic cardinal directions, Titanfall allows players to take the path that appeals to them. "Free-running" and jumping will influence which paths each player will take and should offer some variety where other shooters may seem stagnant. Run around a building? Not in Titanfall, a player can easily jump towards a wall and run along the wall before jumping to another building.
The obvious change will be in the "Titans" themselves, which are the mech-style walkers that have various weapons attached to them. The gameplay video shows the "Titan" with an enormous machine-gun fighting an enemy "Titan", and ripping the player out of the walker before tossing him aside and engaging another target. This aspect of Titanfall looks like nothing I have played before and has definitely gotten my attention.
A major downfall to the game is that there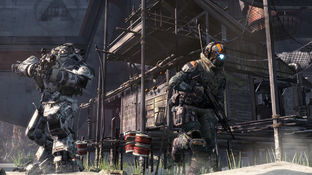 will be no single-player, and that is a bit of a disappointment. However, Titanfall attempts to make up for that by having non-player characters interact within the matches setting the plot for the game, and giving players the ability to rack up some extra kills in match.
Being a fan of first-person shooters, I am excited to try this game out for myself and would love to see a demo be released for the game after the Xbox One launch on November 22, 2013. Titanfall looks like a hybrid with the strong points of Call of Duty and Battlefield, and can hopefully offer some competition for the dominant first-person shooter titles.
Titanfall is set to release in the first quarter of 2014 for the Xbox 360, Xbox One and the PC so keep your eyes on this release!
Published Sep. 8th 2013