Injustice (Mobile) - Zatanna Challenge
Some belated magic arrives to NetherRealm Studio's mobile app, in the form of DC's resident magician.
After over a year since her debut on the Injustice: Gods Among Us console versions, Zatanna finally comes to the mobile version following the Version 2.2 update.
For the uninitiated, the lovely brunette may dress like a magician's assistant but she's the real deal with powers of sorcery. She was taught by her father, Giovanni Zatara. Rumors are that he is also the man who taught Bruce Wayne his skills of escapism and the ability to read lips.
In the console version, Zatanna's magical attacks and powers make her more of a ranged fighter who can unload some major damage, if she's allowed to build up her spells.
The mobile version of Zatanna gives her the Deck Of Fate passive ability which produces a random result from five possible effect, including one that potentially 'backfires' on her. This is reminiscent of Harley Quinn's Bag of Tricks attack.
Behind the Curtain
You will have 18 days to complete the challenge and you start with 25 Challenge Credits to pay for each battle. You will need to buy more in the Shop or earn them by playing regular battles to finish all five series of challenges.
For each set of battles completed, you get a part of Zatanna's gear (Top Hat, Playing Cards, Diamond Prison, Bow Tie, Rose. Once you have won all five challenges, a Gold Level Zatanna is added to your collection.
But, you don't need to complete them all to win something.
2 Challenges Completed - Free Bronze Booster Pack (worth 8,000 credits)
3 Challenges Completed - +15,000 Power Credits
4 Challenges Completed - Free Silver Booster Pack (worth 35,000 credits)
Once the Standard Challenge is completed, players can then try the Expert level version and up to Nightmare level.
Boss Battles
Unleash some magical whupp-ass. Here are my own suggestions:
Challenge 1: Bronze Characters Only - You know me, I put Nightwing up front to deflect and drain, then Deathstroke to take'em out with Full Auto.
Challenge 2: Harley Quinn Must Be On Your Team - You have a choice of Gold Level Harleys and both can increase team health.
Challenge 3: Bronze or Silver Characters Only - Silver Nightwing has good passive and his Kali Fury is brutal, Silver Cyborg may not be solid, but his 2nd attack is devastating. Don't forget Killer Frost no longer counts as a Silver character.
Challenge 4: Bane Must Be On Your Team - Either Gold Banes have strong 2nd attacks. But I prefer the Classic Bane. Luchadore's passive is a crap shoot.
Challenge 5: Black Adam Must Be On Your Team - Whichever Black Adam you use, make him 2nd or 3rd on the roster to take advantage of his passive defense.
Mistress of Magic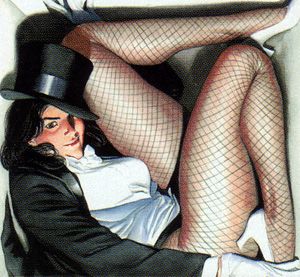 Zatanna started life as a stage magician and show girl. When she investigated the disappearance of her famous father, she discovered that not only was her mother not human (rather a member of the mythical homo magi race), but her lineage meant she had her own magical abilities.
Not long after, her interactions with various heroes leads to her becoming a member of the Justice League. One controversial issue with Zatanna was her intent to mentally alter captured villains using her powers to remove harmful memories and even unwittingly rehabilitate them.
She has worked side by side with Dr. Fate, John Constantine, and Captain Marvel and has the powers to control elemental forces, heal, change objects, read minds, and attack with blasts of magical energy.
Published Sep. 18th 2014